ArE yOu PrAcTiCaL iN bUyiNg ThiNgS? EsPeCiALLy BaGs, ChLotEs, etc.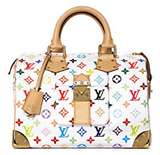 Philippines
10 responses


• Philippines
21 Dec 07
Yeah your right buying names bag not in sale is not a practical one. Thanks have a nice day...

• Philippines
29 Jun 07
I consider myself practical. I don't buy bags, clothes, jewelries worth thousands because I can buy lots of things like groceries, school supplies, clothes for my kids with that amount of money. If I ever I would indulge myself it's only if there is an occasion like my birthday or Christmas.

• Philippines
29 Jun 07
Thanks, its nice to be practical now a days... have a nice day..

• India
18 Dec 07
These things are purchased by my wife and she never buys a piece extra. Incidentially I would like to mention that she is a bags collector. She has hundreds of bags from different parts of the world in her collection, because it is collectible item, she hardly uses them. Regarding clothes, women in India usually ware sarees. She is fond of buying them atleast 4 times a year. She also buys dress for my son. As far as I am concerned I do on my own. I feel she is quite practical in the sense, she is extravaganza.

• Philippines
21 Dec 07
Well were almost desamt but recently I just thought that I must dispose some bags that are no longer nice before I bought again. Thanks ssh for responding some olds topics, have a nice day...

•
29 Jun 07
Why are you capitalising unnecessarily, it is very annoying and makes you look like an idiot all the best urban

• Philippines
29 Jun 07
I'm sorry if you feel annoyed of my style of typing I don't know it is idiot now for having a style in typing, anyway thanks for a nice comment.... have a nice day to you.

• Pasig, Philippines
23 Dec 07
i dont usually go for the brand.its not true that if it is branded it has good quality.there is a lot of products out there that is not much known yet has better quality than the famous brand in the market.i always see to it that what i buy fits my taste and good for what it is intended to be.just be patient in lookig for the right product that best suits what you needed.of course you have to examine everything you buy to make sure you are buying the best product to make you moneys worth.

• Philippines
23 Dec 07
hello lyn. Eversince, I'm really not into branded things. You can say I'm much more of a practical buyer. But when I do buy things with a cheaper price, I still make sure that it's of quality. Sometimes the quality of the branded stuffs and the cheaper ones are almost the same.

• Abuja, Nigeria
21 Dec 07
i am pratical in buying things. before i buy any product from the market i will carefully examine it before payment because most of the products in the market are sub standard and lack quality control.


• Indonesia
21 Dec 07
I love fashion. but I know I have to manage my expense. so I can control it. if I bought bags I usually see the color that I need first I don't care whether its branded or not as long I like the styles. but when it comes to branded and they sell cheap, I think I will buy

• India
21 Dec 07
we notsure butfirst we check when we buy that things ?we use some different things we not sure !but our regular things we take that we imagine hw it is its quality so that image?but another new things we take we only see hw it is ?like this we do our practical buying things?