PowerPuff Girls Z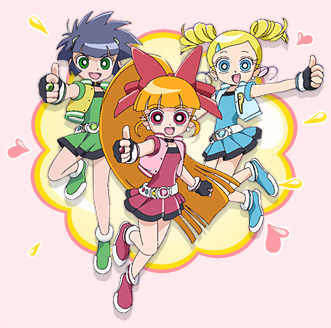 Canada
July 1, 2007 2:18pm CST
While surfing on youtube, I discoverd that The powerpuff girls are now an anime. They remade the carton in an anime style and it,s called PowerPuff girls Z. The story is bassicaly the same and a lot of the character are still there. The girls are a little bit lder and have some differents power. They transform a little bit like sailor moon. The show started 1 year ago and have for the moment 52 episode. I only found the intro and some episode on youtube. I just hope that they will make an english r french version of it and that it will play on tv here. Go on youtube and type powerpuff girls z and tell me what you think of it
3 responses

• United States
9 Jul 07
if my personal opinion i do wish they'd make an english version. just by that picture it looks like it may be a pretty good anime. no more of our style with the big heads and little bodies now they look more like humans. lol. good find. eventually they will make an english version i just hope soon but i can wait as long as needed.

• Canada
9 Jul 07
I just can'"t wait also for an english version. WE've got to be patient :)

•
1 Jul 07
anime is taking over the world...i don't like that stuff i;m sorry. As well it's a bad combination cas PowerPuff GIrls suck...everything sucks...lol

• United States
9 Jul 07
dude, you suck, if you don't like anime why are looking at anime topics? just to down us fans? or just to down the anime? get out of OUR topics and go find your lame topics.