Is Donkeymails And No-minimum the website of a single person?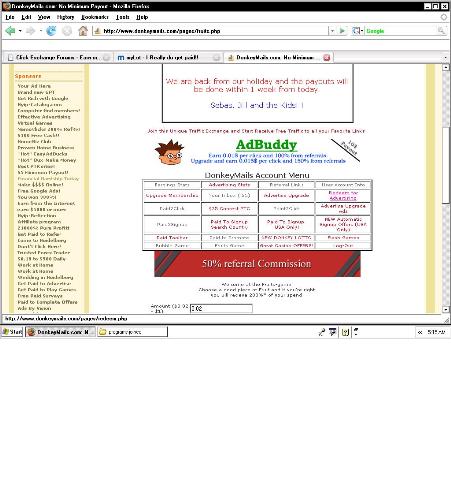 India
July 2, 2007 6:46am CST
Hi friends.I recently joined in the 2 programs.That is Donkeymails and No-minimum.Both of these websites have the same interface.I had a doubt that these 2 websites is under a single person.Am I true?
3 responses

• India
2 Jul 07
Yes they both are sister sites. Donkeymails is managed by Sebas and No-minimum is managed by Sebas & Guy. They also have many other sites also in their group. Their group known as Multi million group. I hope this solves your query. Best Wishes ;-)

• India
2 Jul 07
Oh I see!I had this doubt in my head for quite some time.Now clarified.I have marked yours as best response!

• China
27 Feb 08
donkeymails is definately not scam. in fact, it is one of the most trusted sites in the GPT world.

• Argentina
21 Feb 08
Yes both sites are run by the same person, in fact if you scroll down you can see a box listing all of the sites in their group...i'm actually a member of 2 (donkeymails and jcc) I had no idea one of them was a scam tho, can you tell me which?Just so in case i feel like trying their other sites i don't waste my time with a scam site!