My funny Abigail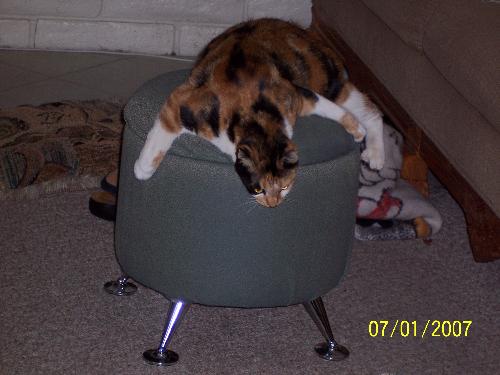 United States
July 2, 2007 12:17pm CST
Abigail my cat decided the other day to attack my ottomen and try to kill it. She was sitting on the couch with me trying to help me chrochet, she wanted to have her way with my yarn. I got up to do something and when I got back in the living room she was on the ottomen beating the heck out of it. She had one side all wet where she had bitten it and licked it. She played/beat up my ottomen for about 15 minutes while I laughed at her. I think she finally stoped when she thought the ottomen was subdued or dead. LOL. For those of you who do not know it I adopted Abigail aobut 2 months ago and she has been such a character. She attacks my feet at night when I am sleeping, she also has turned out to be such a lover kitty. Here is a photo of Abigail biting my ottomen.
8 responses

• United States
3 Jul 07
Isn't it amazing the personalities our furry friends can have...I've had cats all my life just about and I swear no two personalities have been the same...Abigail sounds like a real little funny character..and she's lucky to have you as her adopted mom

• United States
4 Jul 07
She layes on the floor on the tummy and crawls with her front feet until her back feet are straighted out. She is then laying flat on her tummy. I have never seen a cat lay like that. I have seen dogs do that but not cats.

• United States
4 Jul 07
Oh--goodness, I used to have a cat that did that also!!


• United States
4 Jul 07
She is cute until she puts puncture wholes in my feet when she attacks me in the middle of the night. She has such sharp claws. I could not stop he or attacking my feet until I gave her a little swat with my book I was reading. She has not gotten me since. I guess that must have been why she needed to attack my ottomen


• United States
19 Jul 07
I think I love cats more than dogs espically little dogs. I hate all the barking.

• United States
13 Jul 07
Oh My Goodness. That is such a funny story. LOL Our cats do stuff like that every day and they keep us LOL. Arn't they just the funnyest things in the world. We had a little toy teddy bear that our girl Stripe grobed by the neck trying to kill it. :D

• United States
19 Jul 07
My papillion, Petie,has lots of toys, he usually will not let the cats near them. The other day I saw Abigail playing with one of Petie's favorite toys. I thought Abby was going to get a growling. But Petie just walked over to Abby and took it from her. I was supprised. Sometimes if the cats get near his toys he barks and tries to chase them away.

• Turkmenistan
13 Jul 07
Oh my goodness, that is a huge cat. I don't think I have ever seen a house cat that big before. She could have my ottomon and my whole house if she wanted it, just don't attack me, LOL. I like to watch cats plays with the drapes. Although they eventually do a considerable amount of damage to them, it is still a lot of fun to watch. I would imagine that Abigail would totally pull the curtains down. I have got to look at her again. I wonder if I would really be afraid of a cat that big.

• United States
19 Jul 07
She is such a love. She is big but she is a love. At night she goes out and when my husband lets her her she meows and thanks him. He use to hate cats, he now things she is cute. I just laugh at them.


• United States
19 Jul 07
The other morning we woke up and she had beaten up a ball of yarn all over the front room floor. Then later that day she came and was palying with it and was loving on it. I would not let her have my yarn I was crocheting with so she took it out on some other unsuspecting yarn. LOL

• Canada
2 Jul 07
That is too cute! We have three guys here. They were all left abandoned. Sometimes they can get in the funniest moods. Babybj is a real character. My daughter's last school assignment he chewed up. I told her to tell the teacher her cat ate her homework. HEHE Congrats on your adoption of such a beautiful little angel.

• United States
4 Jul 07
LOL, My sister's rabbit has eaten paper and instructions and the numbers off of two romotes, but not the cat. I guess the can do most anything. Abgail sits between the pool and the hot tub and puts her tail in the hot tub. My friend say she is mairaiting.

• United States
4 Jul 07
that was funny. Maybe she just doesn't like the color or the style of the ottomen.lol. Right now two of my cats are in the kitchen batting around a soda bottle. And two more are watching them. Cats do the funniest things.