Do you believe in Online LOVE???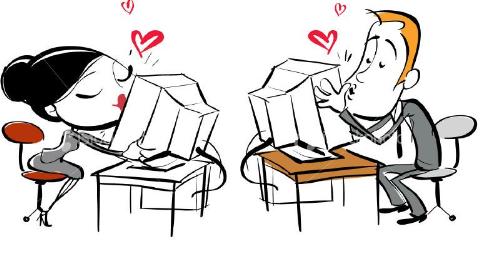 Saudi Arabia
July 3, 2007 1:36am CST
Hi all, I would like you to tell me what do you think about online love. Does it even exist??? For me I don't believe in it, but I've been facing guys who has never met me, but saw a picture of me on myspace or facebook and they are asking to start a relationship with me.. some of them even talked about marriage :s Of course my answer was NO. In order for me to love someone I have to meet him, look at him in the eyes... Eyes can tell a lot about the person... Plus, is it that easy to say I love you to someone, they made it a meaningless word.. What do you think? Have you been there before, or are you now in such a relationship?? Please share it with us... Thanks
4 responses


•
3 Jul 07
I met a person on the internet who I got very close to, he lived in New Zealand which is a long way away from me. He was going to come to England and work in London but in the end didn't so the whole thing was a big disappointment really. He was a good writer and we had a great laugh together talking on IM it's a shame we never actually met it would have been fun. I think it is possible to develop a strong bond with someone online and even fall in love, though in my case it was a disappointment some people have married people they met online.

• Saudi Arabia
7 Jul 07
Yeah I agree with you.. And for me I am against long distance relationships.. it's very hard to keep it.. Thanks for the response :)

•
3 Jul 07
Hi, I think your having your terms mixed up here. Those guys were just coming on 2u. U no, throw a rock and see wut bottom it would hit with u. From wut u told me, I can gather they are twisted and perverted. And soooo hungry for women as they haven't seen or touched a real one before!! U don't think they are asking u 4 a real relationship, do u??

• Saudi Arabia
3 Jul 07
Of course they are not... Come on, but what really bothers me is that they talk as if it's real.. I mean why don't they just ask for friendship???? Maybe it's like you said they are hungry for women :s

• Mauritius
3 Jul 07
Yeah i can understand why u are so hesitant in accepting the boy proposal but it can happen to fall in love online. I have not but yesterday i read a few discussions about this and many people said that met their husband/wife online. But you must be very cautious and only meet him when u are sure that he is sincere and is not lying. Yeah i find it very easy to say I love you to many girls but im not saying it's meaningless either. It become more easy to woo the girl then.

• Saudi Arabia
3 Jul 07
Yeah it can happen.. But in order for it to happen you should meet that person, talk to him/her and know each others better then get married Not say hi, how r u.. will you marry me, it's very obvious that this person is lying... Can't they just ask for friendship and that's it....