I just saw Ratatouille!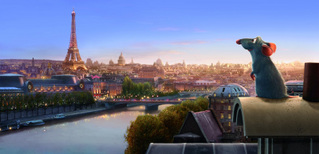 United States
July 4, 2007 8:10pm CST
I just saw Ratatouille! The cinematography was so realistic, leaving me to feel as if I was in Paris and in the actual rooms of the movie. The food was incredible to look at and made me realize that if I can wait until this weekend to make ratatouille (the stew), I will be surprised. It has been awhile since I have made it, but it is time! The movie also made me hungry for some good cheese and red wine....and bread. The story line was so warm and moving. When the DVD comes out, I will buy it so I can watch it over and over again. I was starved when I left after seeing all that food. I went to a deli and ordered a veggie sandwich, pepperjack cheese tomato soup and some chocolate spoon lovin' cake. The cake was so good, it could have been made by the main rat in the film, Remy. For those who are not fond of rats, there are a few scenes where there are lotssssss of them, and they are realistic. The way so many people are today....I thought that it would not surprise me if someone let loose a box or two of rats during the movie. People kill each other for nothing today, so why not? Know what happened? No, nobody let loose a few rats. However 30 minutes before the movie was over, there was an announcement that everyone must leave the complex immediately. There was a fire! Keep in mind that there were 14 movies in this complex. There were hundreds of people trying to get out. There were also hundreds of people outside waiting to get in. There were sirens and at least one fire truck and other fire personal. Eventually, they let us back in. When I got back in, I could smell electrical wiring. We got situated and saw the last half hour of the movie. Remy, was just adorable. In rat life, I would have married him. In Mylot land I have a friend, Karan, who has Remy's eyes. You just have to love those eyes. Go ahead, go see Ratatouille. You won't be sorry!
9 responses

• United States
5 Jul 07
Thanks for the movie review. I havea question, if they made it so that the scents of the food could have been piped into the theatre, would you have left the movie to eat or still stayed to finish it?

• United States
5 Jul 07
BTW - we got evacuated from a movie once..and when we left, we all got free passes for another movie...did u get them?

• United States
5 Jul 07
I would have stayed, but that would have been a great addition. When will Hollywood come up with ideas that little guys like us already have? When we are evacuated, I asked if they were going to let us come back again to see the movie as long as we had our tickets, and I was told yes. Since they let us back in within a half hour we just stayed to see the rest of the movie. Nobody mentioned any free tickets for another movie. And the people outside were late getting in because we had to come back in to finish viewing the movie. If they had given out free tickets, they would have had to do it for everyone, and that would have cost a lot.

• United States
5 Jul 07
Thanks for the review. Before I see it I better eat or else I'll be running out of the theater in search of sustenance. Any animated movie that can make a person hungry must be good.

• United States
5 Jul 07
Oh, yes, and you will be running to the pet store to buy a pet rat. Just say, "Give me one like Remy!"

• United States
5 Jul 07
lolllllllllllll...somebody has to!!!!


• United States
14 Sep 07
I loved it, too....I am waiting for a Ratatouille 2!


• United States
7 Jul 07
Take your daughter, too! It's for everyone.

• United States
6 Jul 07
I heard that this movie was very good though I am not into animated films too much, other than Finding Nemo and Monsters Inc. I may check this movie out when I get back from my vacation. I saw some of the previews and it looks pretty funny. The movie critics seemed to like this movie as well.

• United States
6 Jul 07
The art work of the scenes was so professional, it almost did not seem animated. I was sure I was in Paris.

• United States
5 Jul 07
It was a pretty good movie. It made me wish I knew how to cook gourmet meals :P In my opinion, this movie was geared more towards the adults than kids even though it was a Pixar animated film. Don't get me wrong, it's still a good children movie, but the adults will enjoy it a lot more.

• United States
5 Jul 07
I agree...I just fell in love with Remy and the story line.

• United States
5 Jul 07
funny we took the girls to go see this movie but my 1 1/2 year old was bored after about 40 minutes and my 3 year old got bored after an hour. They both were exhausted and I think I only saw the first 40 minutes then I was in and out. I was bummed. Finally I just told my 3 year old to get her daddy and for us to just leave. It was sad but I know when it comes out in DVD we will more than likely buy it. My kids love Pixar movies and so do we they are the best

• United States
5 Jul 07
I would think the movie might have been a little too mature for little kids. Yet, I feel silly saying that...but it had so much in it that an adult could fall in love with. The story line might be too much for them and the animation had a lot adult would like....kids might not like rats. Of The children in the theatre only two were taken out.

• Turkey
5 Jul 07
That sounds like a good movie, I saw the trailers awhile back, but had totally forgotton about it until I read your post. If what your saying about al the food in the movie, that will be a good excuse for me to take some popcorn in :)

• United States
5 Jul 07
You simply must take something to eat!


• United States
5 Jul 07
And don't forget to make a pot of ratatouille for the movie...it beats pop corn hand down.