What is your sunsign?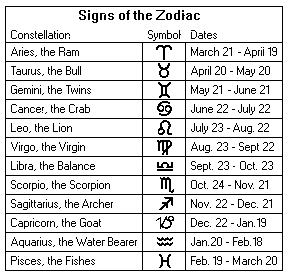 India
July 4, 2007 8:37pm CST
Did you see your horoscope today? What is your sunsign? Do you believe in sunsigns? Has your daily horoscopes ever matched with the daily chain of events? My hardly do. I think all these horoscopes are bogus and serve no purpose because they rarely match for me...
6 responses

• New Zealand
5 Jul 07
Hi there. Ive never heard of it being called a sunsign... Ive only ever heard of it being called, Zodiac, star sign and horoscope... So anyway my star sign is "Pisces", and personally I dont think I fit the part where it says pisces are emotional people, well so far, in my life I dont feel I do...

• United States
5 Jul 07
I'm a Scorpio. Yes, I do sometimes read my horoscope, and many a time they are accurate. So maybe it won't tell me what will happen but it gives an idea. I think one really has to be open minded to truly understand a horoscope.

• India
5 Jul 07
hi i am sayantan.see some r dere who believe it & others don't.but,dere r others who believe it due to some circumstances or u can say dey r bound 2 believe.like me I met an accident in 2006 which affected my lungs and still i am not fully recovered.so,I had 2 believe and an astrologer told me dat my sunsign is cancer.but,it hardly matched.I don't believe in astrologers or d horoscopes.I have a reason 4 it also.these horoscopes r a general view of d astrologers.dey find out d susigns by taking ur name,date,time etc.but,think of it dat when u were born,in dat exact time around d world many others were born too.so,is it possible dat all of ur fates r same.tahts impossible.thats only a general idea that is written.read it 4 curosity but don't get involved in it.

• Philippines
5 Jul 07
i am an aquarian. i read horoscopes but do not take them seriously. i just find them amusing and interesting.i think horoscopes and the ideas behind it had been here for a hundred years or so. i guess they are not that dependable but we can still learn a lot from it.

• Philippines
5 Jul 07
i am cancer. i dont believe on horoscope but i read it sometimes. it is nice to see or read it every once in a while but i dont believe it. i believe in destiny and faith but not on something that is based on sunsign. there are too many people in a certain sunsign and i dont believe that all of us under the cancer sign has the same thing happening in a day.