is sachin regaining his lost touch after opening the innings???

India
July 5, 2007 3:13pm CST
i think sachin is starting to feel good about being an opener again..that might just help him to play for few more years?..i think..may be till NEXT WORLD CUP????
6 responses

• Switzerland
5 Jul 07
The batting position may not be all that important. He was going through a lean patch and seems to have recovered now. It will be better to continue to let him open the innings. He might even play in the next world cup, if everything goes fine.

• India
5 Jul 07
drago.But a class batsman should be able to play in any position..he should had played in the previous positions.Its all psychological for him i think

• Switzerland
5 Jul 07
It is like saying a spinner should bowl well on a seamer friendly wicket. A class batsman should bat well. But, we do not want to prove him as a class batsman. We need him to win more matches for India. And for that we need to give him the position at which he would bat the best.

• India
5 Jul 07
chapell screwed it up for india man...altering the batting sequence and all...and that showed on sachins performance.!!but do u think coming back to opening would unfurl the agression in tendulkars batting?


• India
11 Jul 07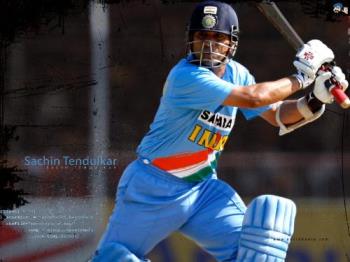 As Sachin Tendulkar has shown signs of returning in form Indian fans will be very happy about it but a couple of continuous good performance does not prove that he has returned back in form.In Sachin Tendulkar's younger days in cricket all the countries was afraid of Sachin Tendulkar as once he stayed in the pitch for a long period he was almost unoutable.Due to his bad performance with the bat India was eliminated in the first round of the cricket world cup 2007.But now he has again got a chance to show his fans that he still has the power of changing the game single handedly and also regain his pride which he has lost.

• India
6 Jul 07
Yes, of course. Sachin has been most successful in one day internationals when opening the innings. He used to very devastating in those days when he opened the innings with saurav ganguly and torment the bowlers with his hard hitting style and technique as well. I was against the decision of team management when sachin was dropped down the order and made to bat in middle order and that's when started to lose his touch and form and slowly his batting started to decline and his injury also aggravated his situation. But when he is again promoted to open the innings now, he has again regained his lost glory and i feel that he will now start go up again and reach the peak soon.

• India
6 Jul 07
aailaah....!!!....sachin is back re...!!!!

• India
5 Jul 07
well..he's gettin old..it won't help..!! he'l retire in a year