Don't eat too many lychees because lychees can lead to death!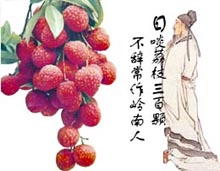 China
July 5, 2007 11:03pm CST
This is a right season to eat lychees.yestoday,my father bought many lychees for me.I think lychees are very delicious or how could it smiled the princess!In ancient China,there were many poets written poems for lychees.Bai Juyi said that the shell of lychees was as red as silk,the flesh was as white as snow and the judge was as delicious as cream.Xu Bo,who was a poet of Ming Dynasty,described the situation of the shell threw upon the ground liked the petals of lotus drop before winds,and the peach blossoms bloom after rains.How beautiful it is!But days before,I have heard someone died because eating too many lychees.Go figure!
2 responses

• China
6 Jul 07
you know,anything that you eat too many is not good for our health.litch,i guess eating too many of it will cause some problem,like 'shang huo'(i don't know how to explain it in english),so as many other fruits. in some sense maybe you are right,we cant eat too many of litch,and i think we also can't eat litch together with other fruits.any scientific proof?

• Austin, Texas
29 Nov 15
Lychees are delicious. Don't buy them from the grocery store though because it is not a common fruit eaten by Americans. Went to a All-You-Can-Eat buffet at a Chinese restaurant one time and lychees were a part of the food spread.