Have you bought a SQUISHEE yet?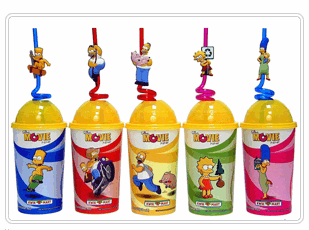 United States
July 6, 2007 10:22am CST
I admit to being addicted to the simpsons:) I even redid my myspace page this month... so when I found out they were selling "Squishees" at 7-11, of course I got one! And today I'm having another. Today I even bought the silly straw with a magnet of Lisa and I plan to return throughout the month to get other magnets. Now usually I don't buy into the hype of movies or shows. Usually I don't buy the related products. But something about this simpsons movie has me hooked! I figure I can afford 10 dollars worth of simpson straw/magnets b/c I actually like the magnets and I will use them on my fridge:) I was semi-good, I didn't get the special plastic cups b/c I know I will not use those and they will just pile up and never be used... but the magnets, I WILL use:) I also see they are selling pink donuts and "buzz" cola. So have you gotten yours yet? Does this excite you??? Go now:) Or at least talk about it!
6 responses

• United States
6 Jul 07
I saw the news headline that they were turning some of the 7-11's into Kwiki Marts for the movie .. it sounds like a cute idea but there aren't any 7-11 stores in my area any more. The closest one is about fifteen minutes away but .. it is right near a huge mall so that give me an excuse to kill two birds with one stone. Go to the mall then hit 7-11. I can just imagine what it's going to be like when the movie premieres around here ... I really hope it doesn't get as bad as the Star Wars convention or when the new Harry Potter films come out.

• United States
7 Jul 07
Wow it's really cool to buy Squishees and Buzz Cola at the 7 11's. It would be cool if they had the homer simpson donuts at my 711. But all they had was Squishees and Buzz Cola. Man I got my squishee cup and I am happy... I shall later sell it on E bay for MILLIONS! lol

• United States
6 Jul 07
I just heard about it on the radio today. There is no 7-11's in my town or I'd be there right now. I'm going to have to go on my day off from work and get myself a squishee. You know what I'd really like to see? Some Duff. They could have a display with a cardboard Duff Man (OH YEAH!)

• Canada
6 Jul 07
Here in Canada, we have Kwik Marts but no 7-11. I don't know if squishees are available here...I'll have to check that out. I, too, am very addicted to the Simpsons. I don't care how many times I've seen an episode, I still laugh my a$$ off!!