My roses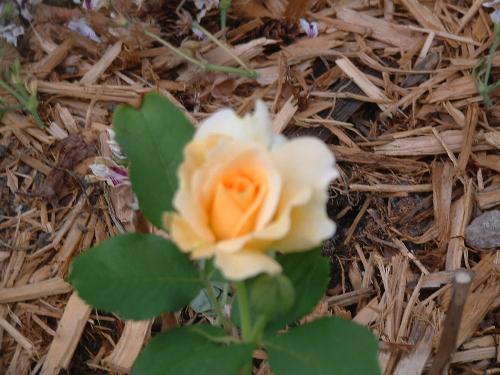 United States
3 responses

• United States
8 Jul 07
Thanks for sharing these. They are lovely. I love roses especially yellow ones. That is the color that my husband gave me on our first non working date. A full dozen. Now I have a whole bush of nothing but yellow. Thank you for sharing. Have a great weekend.

• United States
9 Jul 07
I love yellow roses! "yellow rose of texas is the only girl for me..." hee hee! When I can find a yellow shrub rose, that will probably be my Next one to go in the garden. :)

• United States
7 Jul 07
Uh oh! I'd better get my butt in gear and start taking pictures of mine so that I can keep up with you! LOL I love my roses. I have about 15 bushes and trees right now. My favorites are the peace roses because they get absolutely huge blooms and they smell heavenly. Yours is so gorgeous hon. I love it.

• United States
8 Jul 07
I LOVE peace roses, too! I think those are about my favorite type of rose. :) I just purchased a climbing rose and it's a climbing peace. I'm not entirely sure where I'm going to plant it, but I'm going to find the best home for it. I'd really like it by our front porch, so the smell can drift in through the open windows. Ahh... I can smell them already. BTW.. YES! Get photos! I'd love to see your shrubs! :)

• United States
6 Jul 07
Sheesh I hope it wasn't me you're referring to. But anyhow....... I rated and commented on the photo. A very beautiful peachy color. Roses are the one thing I killed in my 4 years of gardening. Hahahaha! First thing I ever tried rowing actually. And I killed them. Murdered em. Slew em. Took em out. Etc etc etc. HAHAHAHA! Maybe now that I know a lot more about gardening and flowers I may try again real soon. Who knows...I could have a Grandpa Bobs' Rose Garden in the future. Hahaha!!Also thanks for sharing the rose with us all. Appreciated it a ton. HAPPY POSTINGS FROM GRANDPA BOB !!~

• United States
6 Jul 07
Thank you so much for your kind words, Bob. I do love my roses, even though they aren't my favorite flower. It's just nice to have that bright sunny color by my front step, welcoming me home. :) I have learned that hybrid tea roses are the biggest pains in the behind anyone can try to take care of! I've tried many times over the years and never had success with them, either. The ones I have planted now are shrub roses. Heavensent inspired me to get a climber, to, so I just got home from Walmart with a climbing peace rose. Don't know where I'll put it, but I'll find a happy home for it! The shrubs are so much easier to care for, as they don't require pruning, and all that other cr
@p
that hybrids do. Go ahead and give it a try. The most you'd lose is $5 (walmart) and the time to dig a hole. :)

• United States
8 Jul 07
No, you don't have to dig. Make the SIL that ruined your lillies do it! HEE HEE! It's the least he could do, right??? HA HA HA HA!