Apples Good For Health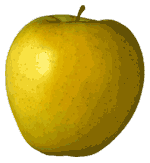 United States
July 6, 2007 10:36am CST
We all know that apples are very beneficial to our health, but did you know that there are 2,500 varieties of apples? I think that I might like to taste them all because I like them so well. Do you have a favorite variety of apple? My favorite is the Golden Delicious apple. I will eat other kinds, but when I shop I always buy these. The reason I am bringing this up is because my daughter asked me a few days ago if she could pick up anything for me while she was grocery shopping. I responded that I could use some Golden Delicious apples. What she brought me was a bag of green apples. I didn't want to offend her so I just told her thanks. I guess everyone is not so familiar with different kinds of apples.
7 responses

•
6 Jul 07
I knew there were many different varieties of apple but 2,500 is a lot more than I would have thought! I too love Golden Delicious or McIntosh Reds but if I ask my partner to get these when he goes to the grocery store you can guaranteed he will come back with something totally different! I know we can't recognise all varieties of apples but surely they can read the labels? lol xxx

• United States
6 Jul 07
Right, mummymo! The article I read about all these varieties also made me wonder why we don't find a bigger selection in the grocery stores. Oh well, with the price of fruit being so astronomical, I guess we could hardly afford all of them anyhow,LOL.

•
7 Jul 07
I like a green apple if I am making fresh juice but I like a Gala apple to eat , A friend on My Lot was telling me the other day that eating an apple can put a headache away , My mum was on the phone a couple of days ago and she had a headache , I suggested she eat an apple , and YES it worked for her , brilliant isn't it xxxxxx

• Australia
7 Jul 07
i also like to eat apples... and i know that they are very good for health... i usually like to eat the Red Delicious Apples or Fiji Apples... i don't like t eat green apples because they are a bit sour... thanks for the info about the total number of varieties of apples... i never know that before and i never even heard about the Golden Delicious Apples before... i might try it next time... thanks again...


• United States
6 Jul 07
Golden Delicious are really not my favorite.....they taste to watery.I like Braeburn or Pink Lady.To most people a apple is a apple and the only difference is that they come in different colors.....but there is a great variety in taste as well.I did not know that there were 2,500 varieties....I figured that there were a lot....just not that many. My guess is she bought you some Granny Smith apples.....but at least she tried :)

• United States
6 Jul 07
Sounds like your daughter brought home Granny apples..which are usually used for making apple pies..so make a pie :)-- or slice up and put on cereal which some sugar..will cut the tartness out I never used to like granny apples cause of their tartness, but somehow have gotten used to the taste..don't care for Macintosh apples ...shhh..don't let my Mac Apple computer hear that--LOL--do love Red and Golden Delicious.but my goodness didn't know there were 2,500 versions of apples!

• United States
6 Jul 07
I am not familiar with the different kinds of apples other than there are red ones and green ones LOL I often like the red ones as opposed to the green though. As long as they are hard and crunchy and red, that's how I like them.