My sweet aunt is saving cats!

Lithuania
July 8, 2007 2:53am CST
Hey,i have a young aunt and she loves cats.She loves them so much that she even takes the homeless cats, feeds them, takes them to the vet, and finds them a home. Since i just love cats i think this is a really nice thing to do.Even though it cost some money ;) Do you save cats?Or do you know who does?Tell me.
6 responses

•
8 Jul 07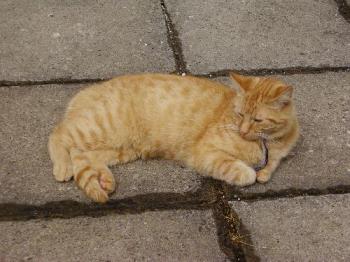 Well it is lovely that your Aunt is doing so much for these poor cats. I have 5 cats of my own - they were all rescue cases, and I also do voluntary work in an animal shelter and give money to cats' charities. This picture is of Henry - one of my lovely rescue cats who now lives with me.

• Indonesia
9 Jul 07
what a remakable person your aunt is..... I once save a kitten and kept it, and it's been a year now ...

• Sweden
8 Jul 07
A friend of my mum helps homeless cats by feeding them and trying to get them tame. She used to keep them herself, but it got to a point when she realised she couldn't take care of all of them. Fortunatly there's a shelter nearby that gets the cats good homes :) The lastest one is a female with four kittens. My best friends will take two of them, since they were planning to get cats from a shelter anyway. This made the woman very happy :) The other two kittens will be taken to the shelter, and I believe she'll keep the mother after she's been neutered.

• Bulgaria
8 Jul 07
I love cats! They're really really cute, especially the little ones. All my life I wanted mostly a cat, but other animals too, for a pet, but my parents don't want an animal at home.:( What a pity! Ur aunt is a really good person. Saving and feeding homeless cats is really kind of her. I wish more and more people to find it fun to save, feed and cure homeless animals!

• Singapore
8 Jul 07
That's such a nice thing to do! I wish I could do that too but my mother hates pets :/ There are quite a few people in my country who take care of stray cats and get them neutered. I wish people would stop abandoning their pets.