Loving the imperfect person perfectly....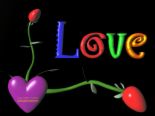 Philippines
July 10, 2007 4:19am CST
Hey guys, id like to share a very nice quote.It touches me heart and soul.:D It goes this way: "You came to love not by finding the perfect person, but by seing an imperfect person perfectly."Isn't it so cute and really true.I really believe in this qoute because if im going to love a person im going to love the whole of him down from his toe to his head..he.he.he,his strenghts and by accepting his weaknesses as well. Loving the person inspite of his imperfections and loving him unconditionally.
3 responses

• India
10 Jul 07
Ofcourse there are so many quotes reflects like what you specify.... But coming concept idea is different from one person to other.. "Love is the misunderstanding between two innocent fools "

• Philippines
10 Jul 07
Yes and imperfections what makes us human.We must learn to love the person unconditionally and tough hes not perfect.Who knows we could make him/her possibly change for the better and that would be at our expense..:))

• Philippines
10 Jul 07
i kinda like that too. i'd like to think that's how it is with me and my husband.