Q-tips.....Do you use them?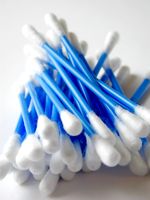 Canada
July 10, 2007 11:18am CST
Do you use Q-tips or any other brand of the same product? If so what do you use them for? I use Q-tips for makeup applications, removeing excess nail polish, cleaning my belly button, and what most people use them for, cleaning my ears. What I find interesting is that, although the most common use for Q-tips, to my knowledge, is ear cleaning...if you read the box it tells you not to insert the Q-tip into your ear. What is up with that? Isn't that the main purspose for Q-tips?
1 response

• United States
10 Jul 07
Target brand 100 percent cotton Q-Tips work great. This box says not to enter the ear canal. I think they have to put this on the container in case some goofball pokes their eardrum and tries to sue or something.