Has Night Shift Started?

United States
July 11, 2007 4:57pm CST
I don't have Soapnet so I don't know if this show has started yet. I want to watch it but Comcast sucks. Is everyone from GH in it?
1 response

• United States
12 Jul 07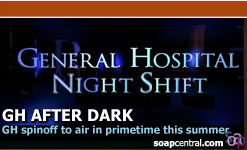 The show is set to debut tomorrow! I can't wait! I had posted this in April, but couldn't find my discussion so I reposted. http://www.soapcentral.com/gh/news/2007/0416-nightshift_cast.php Night Shift Cast Announced Posted Wednesday, April 11, 2007 7:54:34 PM Billy Dee Williams has joined the cast of SOAPnet's primetime General Hospital spinoff, General Hospital: Night Shift. The show will also star some of GH's top younger stars. The show starts production this month and will debut in July. The cast of the much anticipated General Hospital primetime spinoff, General Hospital: Night Shift, has now been announced. As expected, the cast will feature some of General Hospital's most popular younger stars - but there are also some new faces amongst the cast as well. The biggest name among the new faces is that of Billy Dee Williams. Williams, a veteranof numerous films and television series, may forever be best known as Lando Calrissian in the Star Wars films The Empire Strikes Back and Return of the Jedi. This will not be Williams first soap. He starred as Brady Lloyd in the ABC series Dynasty in the mid-1980s and appeared in a handful of episodes of NBC's now-cancelled soap Another World. On General Hospital: Night Shift, Williams will take on the role of a newly created character Toussaint. A show spokesperson described Toussaint as a man with a haunted past. Other cast members include: Adrian Alvarado (Cruz Rodriquez), Bradford Anderson (Damian Spinelli), Julie Marie Berman (Lulu Spencer), Wendy Braun (Ms. Sneed), Steve Burton (Jason Morgan), Derk Cheetwood (Max Giambetti), Josh Duhon (Logan Hayes), Sonya Eddy (Epiphany Johnson), Kiko Ellsworth (Stan Johnson), Richard Gant (Russell Ford), Jason Gerhardt (Coop Barrett), Rebecca Herbst (Elizabeth Spencer), Kent King (Lainey Winters), Lindze Letherman (Georgie Jones), Natalia Livingston (Emily Quartermaine), Kimberly McCullough (Robin Scorpio), Minae Noji (Kelly Lee), Jason Thompson (Patrick Drake) and Kirsten Storms (Maxie Jones). While it was expected that the title of General Hospital: Night Shift would change from its working title, SOAPnet has yet to announce a name change. Production on the one-hour original scripted series begins on Friday, April 20th. The show will premiere in July on SOAPnet.