America dropped from F1 calendar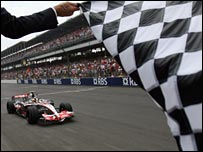 Portugal
July 12, 2007 5:24pm CST
Formula One supremo Bernie Ecclestonehas ended speculation by revealing there will not be a 2008 US Grand Prix. He is keen to stage races in other areas, especially asia, and said no other venue was in line to replace indianapolis, its home since 2000. "We didn't reach an agreement. Let's see if we miss America." he said. Previously, Ecclestone had described America as "not vital" for F1 and said "There are bigger markets to us to be in other parts of the world."Indianapolis Motor Speedway chief executive Tony George expressed his regret at the decision, but said he remained hopeful F1 could return to the circuit in years to come.
3 responses

• Boston, Massachusetts
5 Aug 07
I think Bernie is wrong to dismiss America as a viable market for F1 (but I think Bernie is often wrong). What was the point in having Fox show the Canadian and US GPs if he didn't plan on stirring interest in American audiences? Of course, now with the sole American driver, Scott Speed, ousted from his seat at Toro Rosso by short-sighted management, their chances of capturing the attention of America are diminished. Montoya went to NASCAR from F1, maybe we need some NASCAR drivers who find their way to F1 to get American audiences watching.

• Romania
13 Jul 07
well... things change... it's sad... sad that money dictates... but what can we do? if he thinks that asia will rise the interest on formula one maybe he is right... but I think that formula one will be more interesting if the gaps between constructors will be reduced... I'm for race competition... till then formula one remains just a great show and a peak in cars technology;)