Vintage!

Canada
July 13, 2007 9:23pm CST
I love vintage! Do any of you own any neat vintage clothes, jewellery or purses? The kind of vintage I like are things from the 50's or later, I just love to think of the history behind an item. My grandmother owned a beautiful wool skirt that she wore as a teenager. After she grew up, she gave the skirt to my mother. Now, I get the skirt! It is very nice, and when I wear it I always think about my mother and grandmother. My great-aunt was a model, so she had alot of old vintage jewellery and most of it was passed down to me. I never met my great-aunt, but I love to wear her jewellery and think about the great places she went in them! So do you have any stories behind your vintage clothing?
3 responses

• United States
16 Jul 07
I do not like to wear things that have already been worn by someone else.

• Malaysia
14 Jul 07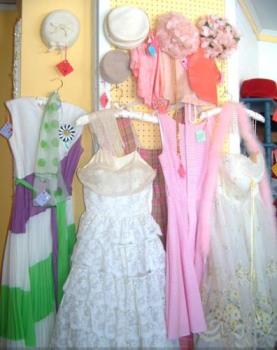 I love vintage clothes but the thing is I can't fit in any of my mom's or grandmama's clothes.I'm a big girl.lol.But the jewellery are nice though,I wear it all the time.I'd love to fit into my mom's leopard print skirt.And for that to happen,I need lots of exercise!and I mean lots!

• United States
14 Jul 07
I don't own anything vintage really, but I love 1920s or 1940s vintage. It is classy but edgy for that time. I would love to know who the person was who owned that jewelry back then, or that dress. I just would love to know their story.