Has anyone tried Parasailing? What is your opinion on it?

United States
July 14, 2007 8:04pm CST
I just got home a couple of hours ago from my vacation in Atlantic Beach, North Carolina. I had a wonderful time there and did quite a bit. My favorite activity was Parasailing. Has anyone done this before? Did you like it? I was nervous at first but as soon as I got up in the air, I did not want to come down. It was an awesome feeling being 500 feet in the air and seeing the ocean and the islands and watching the Wild Horses running along the shore. It was a fantastic view and got dipped a little bit by the drivers. :-) I was afraid to take my digital camera because I did not want to drop it in the water so I do not have any pictures. :-(
6 responses

• United States
15 Jul 07
I have never been parasailing but I would love to try it. I have seen people doing it and it looks really fun. I can see why you would be afraid to take your camera,lol

• United States
21 Jul 07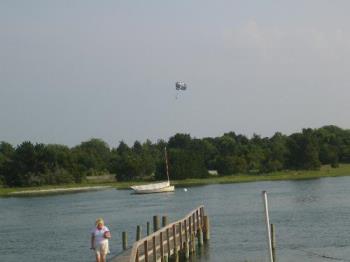 Hello my friend. :-) You should definitely try it sometime. Here is a picture of someone Parasailing. This is what I was doing and was at the same height. It was a wonderful view. I should have gotten a disposable camera to take up there. Now I know next time. You can have two people up there at the same time so it is a very romantic thing for couples to do.

• United States
22 Jul 07
hello. We are just gonna have to see if there is any place to go parasailing when I get home. we can snap pictures of and rag on each other lol

• United States
15 Jul 07
Welcome back again Ken. I dont think I could ever parasail. I have a fear of heights..Although I have gone on many planes! Sounds like you love the water and the air..sorry you didnt get to take pictures..Would have loved to see the sights.

• United States
15 Jul 07
Welcome back, I am glad you had a safe trip and that you also had a good time. I have never been parasailing, my mom has done it and says it is awesome. Its too bad you didn't have one of the disposible cameras that can also get wet. Now its back to reality. Vacations go too quick.

• United States
15 Jul 07
Vacations do go by very quickly and am sad that it is over. It was awfully hot and humid down there but overall I had a great time and had a lot of great seafood and did quite a bit of sightseeing. There is quite a bit of history down there as well.

• United States
15 Jul 07
I have never done that, but must say it is one of the things on my list of things I want to do before I die. It does sound like it would be so neat to be up high, like flying, and see all the things below!

• United States
15 Jul 07
I definitely think you would enjoy it as it was a perfect day for it and could see for miles away. It was just me by myself but people can go up in pairs. The boat ride was nice too while watching the other couple up in the air. You can get wet or stay dry and how high you go depends on the weather conditions.

• United States
20 Jul 07
I do not think that I have tried Parasailing before. Maybe I should give that a try sometimes.