What's she doing in a pool???!!!!

United States
July 15, 2007 9:11pm CST
A few of my friends and I decided to take our kids to a pool (this is in a gym with paid membership) over the weekend. As we were swimming, we noticed this one girl in her 20s swimming in the pool and she had about 8-10 open sores and some were infected with pus on her stomach area and her back. They were the size of a pea..and some a little larger. SSSOOOO gross!! We immediately got out of the pool and none of us went back in to swim after that. We didn't say or do anything about it. But should we have? Maybe to her or maybe to a lifeguard on duty? She did spoil the fun for us a little. Good thing she came close to when we were almost ready to leave anyway. So, we didn't say anything. But what would you have done in our situation?
4 responses

• United States
17 Jul 07
I would have reported her- why would they allow her in the pool- most public pools state noone with open sores allowed in- I read this at the hotel over last weekend- Gross is right- Chlorine doesn't kill everything- I would certainly have spoken to someone about it- she should not have been in there-

• United States
17 Jul 07
Even if it's not stated, it should have been common sense and common knowledge, right? But I guess some people just don't care. It's so bad too because a lot of kids swim in this pool.

• United States
28 Jul 07
I think it would it would have been ok to say something to someone there, I'm not sure what they would have done or said to her, but something should have been done. It's not like shes at the lake or something for a paid place I think they would have done something. I think you did the right thing by not getting back in the pool

• United States
16 Jul 07
I think I may have alerted the life guard or whoever was in charge of supervising the pool or even the gym manager on duty. She should not have been allowed to swim in the pool with open sores like that. I don't think I would be swimming there until they clean the pool again. YOu can never be too careful when it comes to things like this.

• United States
16 Jul 07
I know. Some people are so inconsiderate. And she was not alone..she came with a group of friends. You would think they would have said something to her, right?

• Malaysia
16 Jul 07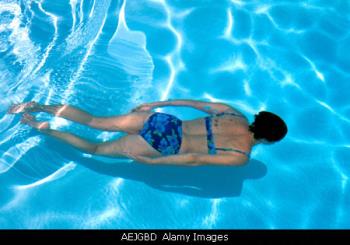 Ewwww..pus?and open sores?must be herpes!hehe.okay that's a cruel accusation but she shouldn't be swimming in the CLUB POOL for crying out loud!someone should do something about it,might as well be you marriedtoamarine.Hope your kids are not traumatized by her!

• United States
17 Jul 07
Oh gross!! Herpes? You think so? That's SO nasty!!!!!!!!

• Philippines
16 Jul 07
my gudness! honestly it would have been a good idea if you filed a complaint at the customer assistance desk or something. that is a gym with paid membership right? the gym should know that you are not happy about what happened. the gym managers should freak out over losing their customers because of stuff happening like that

• United States
16 Jul 07
Yes, paid membership. Totally grossed us out. Maybe we were hoping that the lifeguards were more vigilant. Yeah...should have said something.