Are lawyers unscrupulous

India
July 17, 2007 4:46am CST
Hi friends I am a lawyer by profession.Last day a friend of mine who is a doctor told me lawyers are unscrupulous,heard-hearted people without any kindness and commitment to society.His allegation is based on lawyers help robbers, dacoits,thieves,rapists,counterfieters,cheaters,fruads and murderers prosper.He says that lawyers knowingly help wrongdoers escape.I rhetorted that whether he would give medical aid to a wounded notorious criminal.He kept silent and did not answer.I told him that every profession has its own ethics and etiquets.To the outsiders it may seem awkward prima facie but when closely analysed one can find that it is for the larger good.So what is your opinion friends? Still I'm unscrupulous?????????
6 responses

• Philippines
17 Jul 07
you are right for every profession there are different code of ethics. but you can't deny the fact that there are some people in your profession that take advantage of people. i have this friend who was a defendant in a particular case but since she cannot afford to hire a lawyer the state provided her one. while the case was on going she noticed that the public defender given to her was forever not available during the trial so she asked one day how come he does not show up during the scheduled trial you know what answer he gave her 'that's the kind of defense you get' for not having money. and not only that he also told her that there's nothing she can do about it even if she reports him to the judge or the bar association for according to him anytime the judge and the association will believe him than her who is not trustworthy because she is the one accused. isn't it one is presumed innocent until proven guilty. i just hope that one day everybody rich or poor will get fair and decent defense from your so called profession.


• Philippines
17 Jul 07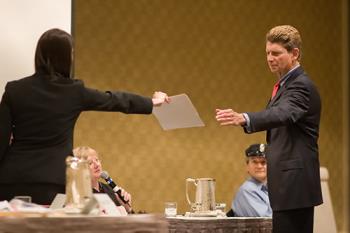 I don't think all lawyers are...to make that as a sweeping statement is unfair for the profession...every profession has 'black sheeps'...so lawyers are not exempted. With due respect however, I responded to this discussion because I want to share my personal experience with two lawyers. My God, it's true...these two lawyers tell lies in their statements...I belong to the academe and we were sued by a student and his parents...to make the story short, the case is now in court. Their statements (lawyers') were all fabricated and falsified, and created all sorts of 'stories' about their client being harassed by us, etc. all being baseless and false. We as educators were appalled at such baseless and malicious accusations from two lawyers who are supposed to tell the truth, we thought. So now, I realized that lawyers do anything just to win their case, and consequently, get the necessary cash associated with the winning....of course, not all lawyers may resort to these dirty tactics, but these two are so shameless they should be disbarred...and I guess we are filing either a suspension or disbarment of these two for conduct unbecoming of lawyers...

• India
17 Jul 07
I am really sorry to hear what had happened to you.I have seen the words displayed before the U.S supreme court,if I am correct,Administration of justice is the strongest pillar of Govt. something like that ,I don't remember it exactly.Whatever be the allegations the decision is given by the judge.In the "Upanishad" literature there is a saying 'satya meva jayathe' which means truth always triumphs.In your case also I am sure that the final victory will be for the truth.All the best.And I don't think you can sue the two lawyers on the basis of false allegations made against you.Disciplinary proceedings are attracted only when there is a misconduct in conducting their client's case and not for making a false allegation.In that case your remedy lies in getting the suit against you dismissed with compensatory costs or you can file a damage suit against the students for causing mental agony,financial loss etc.Even then you cannot maintain a case against the lawyers for want of professional misconduct which is totally different from making a false allegation against you because the allegation is made not by the lwyers on their own but on behalf of the parties.Anyway if you are serious on the matter please take expert advice may be the law in your country may be different from that of mine.Wish you all the best

• China
18 Jul 07
Lawyers do before ,but too many of those laws and pulling me to remember ,right now the law less say

• United States
17 Jul 07
The legal profession has a pretty high profile in our society, especially with so much news and the fact that criminal and other court cases are often in the news. In the U.S., the criminal justice system is supporsed to work on the premise that everyone is innocent until proven guilty and that the accused deserves the best defense possible. That could not be accomplished without defense attorneys. Stereotyping is never fair. On another note, while respecting the need and right of all persons to make a decent living, I think there is something to be said for the fact that money corrupts and that happens in all professions. Where the medical and legal profession really are at their worst is when money is the motivating factor rather than ethics and oaths.

• India
17 Jul 07
well i would say some are and some are not,Because in every profession there are people who follow some ethics and some who don't know what ethics is all about.Be it any profession for that matter engineers,doctors,builders ,whoever some work for the pure joy of the profession and betterment of mankind and some only for money.so don't blame yourself if you have your ethics in place.

• United States
17 Jul 07
Lawyers that work for collections beaureaus ,like sherrifs whom evict the downtrodden,have a special hell waiting for them.Lawyers that defend criminals, may be helping someone who's not a criminal get justice, everyone deserves representation.