Can Man U defend the EPL title next season too???...........................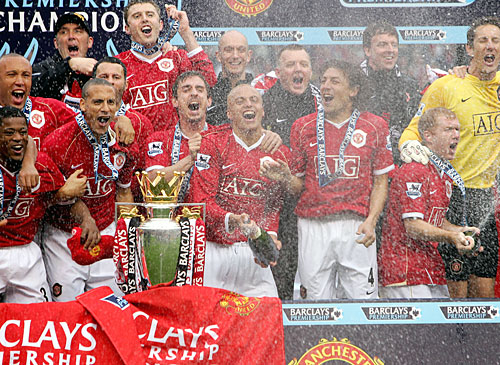 United States
July 17, 2007 8:15am CST
Man U performed well last season and won the title after three seasons.Its their 9th title within 15 yrs,shows their supreme domination in the league.Last time they missed the Champions league,losing out to champions milan in the semis & also the FA cup,Chelsea winning a closely fought final.I believe they can win the triplet crown (they did it in 1999)next season,because they r the best .What do u think?Can they do it again?Will Rooney be the top scorer& CRonaldo the best player?
8 responses

• Nigeria
17 Jul 07
yes man u can defend there title with the caliber of players they have bought, i believe them a lot.

• India
17 Jul 07
ya manu will win the tittle even this year

• India
20 Jul 07
i am sure that Manchester United is bound to win the EPL next season also ... there can be no competetion for them this season as Henry has left Arsenal and the other teams also not copping with them... To add to their victory teams are new signings namely NANI,ANDERSON and OWEN HAGREVAS ..I would be looking over to Manchester United whether they go on to repeat the treble which they won in 1999..

•
17 Jul 07
No, I dont think so. Even with the signings they have done this summer, Hargreaves, Nani, Anderson & Tevez its likely that its only one or two of them that will gel with the rest of the team..Tevez & rooney, Hargreaves & Carrick all similar and they wont be in the team at the same time...Liverpool are the darkhorse in this..but behind Chelsea all the way..lol

• United States
27 Jul 07
tevez & rooney can form either side of the attack & with cronald behind them ,they can be vry dangerous ...Man u r better now , so better results

• India
17 Jul 07
I think if you look at the purchases that Man U has made over the close season, they mean real business. If they now get Tevez as well to add to Hargreaves and Nani, it would make it deadly for Man U. I think Man U would be there there abouts for the title and would be competing in all the four competitions that it enters into. Let's see how the season opens. Cheers! Ram

• Zimbabwe
17 Jul 07
you actually doubt united to do it? i have all faith in my squad year in year out

• United States
19 Jul 07
its not a doubt ,i believe them..just checking others opinion...

• India
2 Oct 07
i believe that united will hold the epl for the comin years..they have the right team right players who can do it for them... especially talents like tevez,hargreaves ,nani,anderson and pique into the team their chances of winning the title this year has been really good...they have been playin well these days even after getting a bad start to the season..the defence has been workin really well..especially vidic,ferdinand and evra..

• Singapore
5 Aug 07
Last season, United won the League not just due to the footballing skills and techniques, but the most important ingredient for their success was their determination and mental will to win. That's what I like about a football team like Manchester United. I've been a fan for more than 20 years and I'm proud to say that I've not supported the wrong club! Like I've mentioned in the other thread, no EPL club can dominate in the Premier League. No EPL club can win the treble or even the quadtruple. The top 4-5 teams are very close in terms of quality, so it's also down alot to mental strength, and luck to a certain extent. Of course, I'd love to see United win everything but I'm also being rationale here. I'd be very happy if United win both the League and the Champions League. Whoever wins he top scorer award this season, I hope it will not be Drogba again. Ronaldo will be the best player again.