Help Needed to Find Butterfly Tattoo Ideas

United States
July 17, 2007 6:58pm CST
Hubby is coming around and will help me select a butterfly for my tattoo. He would like it to be more than one color. We have decided on Blue, Purple, and Yellow. Now comes the hard part. I am having problems finding one that suits me. If you find one that you think I should contemplate, post a picture. Thank you!
7 responses

• United States
19 Jul 07
Well now you have support and that is good. Have you decided upon a butterfly yet? I love purple. I love all shades of purple. Be sure to post a photo when you get it done. Does it hurt when you get a tattoo? I am just curious. Does it burn for a few days or any discomfort at all. It seems to me that it would have to be painful for a day or so.

• United States
19 Jul 07
My favorite color is purple and all the shades of it too! My sister tells me that it does cause discomfort. She said it is like a scraped knee. I will keep you posted as to what my take on it is.

• Australia
18 Jul 07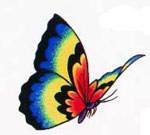 oh I am so glad your hubby is coming around to the idea it is a good strategy getting him involved in helping to pick it out for you, thats the way to do it, here is one that i like....I hope you will sjow us when you get it done..

• United States
19 Jul 07
That is a pretty butterfly! :D I like all of the bright colors. I think that would be very pretty, as long as the colors didn't fade! :)

• United States
18 Jul 07

Here is one that comes up from googling tattoo with your colors mentioned. I hope that the colors of any tattoo you select will stay for long time and not fade as so many do. I am proud that you are going to do this and that hubby has decided to join you in an activity of your growing spirit. Good luck and safe tattooing.

•
18 Jul 07
Man Elusive, I went looking but I just can't seem to find anything that I would like. But I do have something to add to your quest, I am looking for a moose. Yep, I want a moose tatoo, but I want it to be pretty, I am a girl. If anyone come's across one, send it my way.

• United States
18 Jul 07
How do you want it to look, like what kind of style? (realistic, traditional, etc) I have a lot of tattoo pictures saved on my computer, including a few of butterflies. They are mostly in a traditional style, but I'm not sure if that's what you're looking for. If you want me to show you those just let me know. You can also check out http://www.bmeink.com if you haven't already. They have a ton of butterly tattoo pictures. Also, the tattoo shop should have a ton of flash that you could look at.

• United States
19 Jul 07
I found some amazing butterfly pictures by doing a search, Elusive. There they were in all their glory-all colors and sizes. I'm a butterfly fanatic too. I hope you will find what you are looking for. Or better still, you might be able to create one of your own styling if you draw.

• United States
18 Jul 07
I am really glad that your hubby has come around! Yay! :D And, I agree with him! I think that you should have a butterfly that has more than one color. So, that it stands out a little more and looks pretty! haha Blue, purple, and yellow! Three beautiful colors! I think that this one is really nice! I hope that this helps! :D