Have You Ever Broken A Piggy Bank For The Money?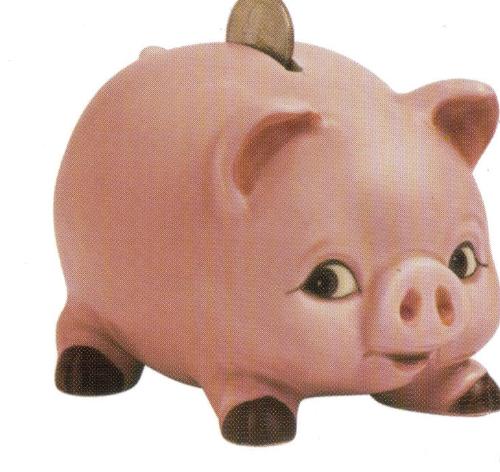 Turkmenistan
July 17, 2007 9:28pm CST
I have fought with my share of piggy banks. But, not the porcelin ones. I am talking about the plastic ones that are much harder to get into. I always purchase those and they never last me more than a couple of days. When I was a little girl, my two sisters and I had little globe shaped banks. They were so cute, but money never stayed in them for very long either. I guess I have always had a problem with saving money. I have always kept spending until it was all gone. But, in the last few weeks, I have been doing a much better job of saving my money.
6 responses

• United States
18 Jul 07
I never had a "piggy" bank when I was young, but a few months ago I found a nice ceramic piggy bank at the thrift store..I just had to have it..my grandsons put money in and take money out..they have to be extra careful not to break it..There are to holes in the bottom that have plastic caps on them and are easy to remove..the youngest fills it with pennies, then empties it and fills it again..It is pretty big and very pink..

• Australia
19 Jul 07
i have a piggy bank as well when i am young and i never have the heart to break it until it is really full... i just keep on putting money until it is very full then i open it and change it with notes... it is amazing how much i can get from there... now, i still have a container to put all my coins and it is really very helpful during emergency times to use it...

• United States
19 Jul 07
I don't think I've ever had a porcelin one before. I have the hardest time getting into plastic ones. I just shake them and shake them until all the change finally comes out. It drives me crazy! I have this elephant one right now that my husband and I call the 'baby fund'. We are saving money back for a baby and it's our special piggy bank that all our spare change goes into. I guess that's well worth it!:)

• Turkmenistan
19 Jul 07
A baby fund is a very good idea. I lot of people do not think about this early enough. Especially if you have a daughter. With a daughter, the bride's family pays for the wedding, so you want to keep saving until she is married off. I guess for boys, you are pretty much done, after they graduate from college.

• Australia
19 Jul 07
I totally empathise with you! In the past month I've purchased and broken open two of those thin metal tins with the bank note pattern on them. Seriously, it's a waste of money me going and buying these tins because they're $2 each! I'm a terrible saver and have adopted a new way of saving. I really hope it works because I'm gettin gmarried next year and need to save!!

• United States
18 Jul 07
We had coke n cola ones which had an opening at the bottom so you can get the coins out LOL. Nothing lasted with me though when it came to saving money. It wouldn't even reach the piggy bank. It did look like in my room though.

• Turkmenistan
18 Jul 07
I think I need an idiot proof bank. I would say, one that had an opening that was impossible to find. Since, I never give up, I would spend the rest of my life trying to find the opening and never break it open, because that would mean that I was giving up,LOL.

• United States
18 Jul 07
Most of the piggy banks I have had were the kind that you could get into without breaking. The only ones that weren't were the ones that were made of glass. I haven't broken them though. I found that I could manage to get the money out of them if I really needed to, although it took some work to do it. I know that if I take the time to get the money out of them, I really need it because I wouldn't go to the bother unless it was important.