Squirrel & Bird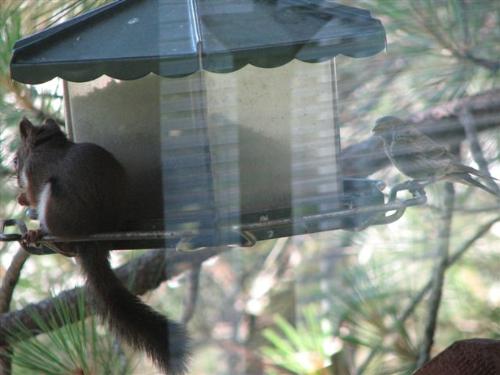 United States
7 responses

• United States
21 Jul 07
I thought that picture was very cute how the squirrel was on one side and the bird on the other side. I was watching my birdfeeder today and noticed two squirrels on the ground eating bird food on the ground. The male cardinal came flying down and joined the squirrels. I was amazed that the cardinal would get that close to the squirrels. My backyard is getting all sorts of visitors from groundhogs, cats, squirrels and birds.

• United States
22 Jul 07
I thought of you when I thought to post the picture, so glad you found it hehe I figured you'd get a kick out of it. :) Maybe you need to take some pictures soon of your little visitors.

• United States
20 Jul 07
How cute! We have a few squirrels, but the don't seem to bother with our feeders. It may be due to the fact that our cats lay waiting in the bushes to see if they can catch a snack.

• United States
20 Jul 07
There are like two squirrels at my Mom's that think all those bird feeders are theirs and the porch is theirs and well the whole area is THEIRS. lol Its really funny.

• United States
20 Jul 07
Awww...that is really cute! That would have been a wonderful picture if there wasn't a glare! :D We use to have squirrel feeders, and when the squirrels would drop some seeds on the ground...they would get down together and eat! haha I think that is really hilarious! LOL :D

• United States
20 Jul 07
Yes, that is cute. I was able to make out both the squirrel and the bird. I have seen this sort of thing at my bird feeders too. I just never got a picture of it.

• United States
20 Jul 07
We had one where they had to lift up the little flap, and when it got low enough...they just jumped inside! We have lots of pictures of it! :D

• United States
23 Jul 07
Thanks for sharing that. It's a cute picture of how nature will work together. They are fine with sharing so long as they don't get in each others way. I think humanity could take a lesson from that don't you? That we can all share things in this world and we don't have to get into each others way if we don't want to :)

• United States
20 Jul 07
I love watchin the squirrels almost as much as the birds. We have too many cats in our neighborhood, though, that keep the friendly little guys away from our feeders. I suppose that's OK. Thanks for sharing your photo with us! :)