Evil Looking Goldfish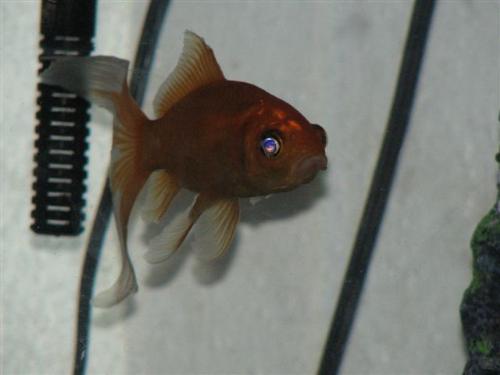 United States
8 responses

• United States
20 Jul 07
I wonder if your husband got bored last night.lol. I don't have fish now but I did before. And I don't ever remember taking pictures of them.lol. But that is a nice looking fish. He kind of looks sad to me not evil.

• United States
20 Jul 07
I was in the air of saying he was evil looking and sad His mouth looks sad & his eyes look evil so together he looks like he is just mean and looking for trouble lol He was playing with the camera last night and actually got a good shot of the fish, which is rare hehe

• United States
20 Jul 07
Yeah, I guess his eye does look a little on the evil side. Is he the only fish you have?


• United States
20 Jul 07
Ah, so a demon has taken over your fish! That is so funny, and so cute. It's like he is saying, don't mess with me, I'm the biggest, baddest fish in the world. And if I were a fish, I'd believe him, LOL. Thanks for sharing such a great picture.

• United States
20 Jul 07
That is exactly what I thought lol hehe Thanks :)

• United States
20 Jul 07
I have never taken pics of our fish. Yours looks like it definately has attitude! We have named one of our fish. His name is Moby. He is a Catfish that only comes out when it feeds and remains behind the rocks most of the time.

• United States
20 Jul 07
'You talkin to me?' hahaha Very funny! That is a really scary picture. I would hate to get a drink in the middle of the night and see that! I would run staight back to bed! LOL Its kind of like when you take a picture of a dog, or see them in the middle of the night! :D

•
20 Jul 07
ha ha, I don't think he looks evil, but really REALLY sad. We haven't taken pics of our one fish, but then again, we don't see him until about 3 in the morning. He seems to be nocturnal.

• United States
15 Aug 07
Last month we had a satalite installed, and during this time my husband accidently killed our goldfish. We had 10 beautiful big goldfish that had lived in one of our outdoor ponds for several years, and the day the installer came, Stephen placed the hose in the top of the pond meaning to only add an inch or so of water, but then we both got distracted by the 3 hour installation, and by the time we realized we had forgotton the hose, 8 hours later, the water had overflowed the pond bigtime, and the the clorinated water had killed all the fish. We were both devastated. Thankfully the many frogs that live in the pond sensed the danger and all jumped out. They were all sitting by the rim and rocks of the pond waiting for us to fix the problem. I miss thier beautiful shadows swimming over the colored lights at night (frown), but he promised he will get more this month.

• United States
20 Jul 07
I do not have any fish but when I was at the aquarium in North Carolina I took pictures of some of the fish and some of them do look pretty evil. I think some of them look evil all the time as that is how they were created but some of them may not like having their picture taken either. LOL I always wonder what goes through their mind.