Do you agree with the 4th Newton law? (that the world will end in 2060)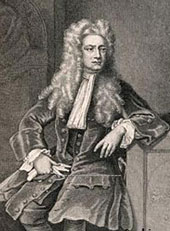 Macedonia
July 20, 2007 8:21am CST
The father of modern physics and astronomy, Isak Newton has predicted that in 2060 will be the end of the world. This "fourth law" has been found in the letter from 1704 year. Famous as rationalist, who have gained the king's exception, for not following the church's propaganda in England, Newton has based his prediction from bible text. He has predicted that the world will end after 1260 years of the creation of the Rome Emperor, which is based in 800th year in our era. What do you think about the authenticity of this prediction?
9 responses

• Philippines
20 Jul 07
I think, nobody really knows when the world ends except the one who created it. There has been so many predictions about the end of the world. People from different ages and groups want their own share of prediction. As of me, it can end anytime. What's important is that people would be prepared for it and have make their stay on earth a meaningful one.

• Sao Paulo, Brazil
20 Jul 07
I do not believe those kind of things. No one can tell me what is going to happen tomorrow, but people can get close to knowing it. There are many factors that can change the future, at everytime. It's not a certain thing from which you can talk about. Scientists can tell if it's going to rain, however many factors can change it and sometimes they are wrong. Now, imagine yourself predicting what is going to happen in 2060! Let's admit, Sir Isaac Newton got pretty close to it... Since we're now under threat of the Global Warming. Anyway, I cannot be sure that Isaac really said such a thing. I doubt he did. Lavoisier once said: "In Nature, nothing is created, nothing is transformed; everything CHANGES". In other words, he proved that the World can't just end. Maybe change. Our Earth won't be destroyed, but maybe will become a new Sun, or Humans won't live here any longer. So, what he said, if he really said, is wrong. After all, the World will never end. But human race might transform into a new creature.

• United States
20 Jul 07

I'm 60 years old and can't tell you how many times it's been foretold that the world was going to end in a particular year. Nostradamus had predicted that it would end years ago but here we sit. I don't believe anyone can predict such a thing.

• Macedonia
20 Jul 07
Maybe there is some science relative prediction, of melting of the ice of the poles. The scientist predict that if it is going like this (raising the temperature by 1 Celsius) after 20 years (+20 Celsius) which will be end of approximately 60 Celsius temperature, so the ice will melt and there will be water far enough to reach to the highest zenith Mont Everest. What do you think?

• United States
20 Jul 07
you never know when the world will end. we could become engaged in a nuclear war tomorrow and mankind would cease to exist. but will the 'world' ever really end?? think about it. how does the world come to an end. isnt the world an ongoing thing?

• United States
20 Jul 07
Hi stmartin. I have not heard about this law before... I will not be here anyway when that happens lol I will be 100 years and there is little chance for me to live until a hundred years. There are other theories... Last week I was watching a documentary. They predict that the world is going to end in 2012, that's in 4 years! Well, there is a big chance I will see this one. Have a nice day stmartin and happy mylotting!

• Canada
21 Jul 07
For the sake of accuracy, I will point out that Newton's sercret writings (secret becuase he was well aware of the church's penchant for persecution) do not predict an end in 2060. He actually says it cannot happen before that year. He was irritated at all the nutjobs in his era who were predicting the end of the earth. Same as the religious nutjobs who predict it currently.

• United States
20 Jul 07
i don't think we will know until it happens. there's a lot of ways the world could end, it could even end tomorrow, but we simply cannot tell.

• Portugal
20 Jul 07
the world does end for several people, every second of every hour of every day and so on...

• Portugal
20 Jul 07
Consider it. Do not ignore it. Put engadgement on it.