Crepe

Brazil
6 responses

• Singapore
22 Jul 07
Measure 1 cup flour,1/2 cup milk,1/2 cup water 1/2 teaspoon salt,2 tablespoons melted butter and 4 eggs in to blender jar; blend for 30 seconds. Scrape down sides. Blend for 15 seconds more. Cover and let sit for 1 hour. (This helps the flour absorb more of the liquids.) Makes 12-14 crepes. For a Sweeter crepe: Add 2 teaspoons sugar and 1 teaspoon vanilla and 2 tablespoons chocolate sauce.

• Germany
22 Jul 07
Basic crepes recipe: 2 1/2 cups flour 1/4 tsp salt 4 cups milk 4 eggs 2 tbsp sugar 1/2 cup oil 1. in a bowl, sift the flour and salt together. 2. in another bowl, combine milk, eggs sugar and oil. Slowly add in the sifted flour. whisked until blended. refrigerate for 30 minutes 3. strain the mixture 4. heat a non stick pan over medium heat. put a tsp of oil. when hot, put 1/4 cup of crepe mixture, immediately swirl the mixture in the pan to cook the entire bottom. cook until set. transfer to a plate and do the rest of the mixture choco-banana crepes 8 crepes 1 1/2 chocolate hazelnut spread 8 bananas 1/2 cup confectioner's sugar to make choco- banana crepes: put a crepe, browned side down, on a plate spread 2-3 tbsp chocolate hazelnut spread. top with 1 sliced banana. fold or roll up the crepe. sprinkle with confectioner's sugar

• United States
22 Jul 07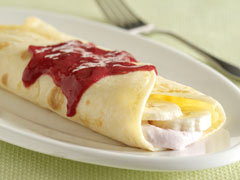 ohh i sure do!! the first one is my favorite..i scaned the pic from my recipoe box.,.they are all good.u should try them..if u do let e know what u thoght of them will ya? happy eating! 1. Banana-Raspberry Crepes 1-1/2 cups flour 1 Tbsp. sugar 1/2 tsp. CALUMET Baking Powder 1/2 tsp. salt 2 cups fat free milk 1/2 cup cholesterol-free egg product 2 Tbsp. soft reduced calorie margarine, melted 1 pkg. (10 oz.) frozen raspberries, thawed 1 cup BREAKSTONE'S FREE or KNUDSEN FREE Fat Free Sour Cream 1/4 tsp. almond extract 1 cup thawed COOL WHIP LITE Whipped Topping 3 medium bananas, sliced SPRAY 6- to 8-inch skillet with cooking spray; set aside. Mix flour, sugar, baking powder and salt in large bowl. Add milk, egg product and margarine; beat with wire whisk until well blended. Heat prepared skillet on medium heat. For each crepe, pour 1/4 cup of the batter into hot skillet. Cook until lightly browned on both sides, turning once. Repeat to make 16 crepes. PLACE raspberries in blender or food processor container; cover. Blend until pureed; strain to remove seeds. Remove 3 Tbsp. of the raspberry puree; place in medium bowl. Add sour cream and extract; mix well. Gently stir in whipped topping. SPOON about 2 Tbsp. of the whipped topping mixture onto center of each crepe; top evenly with the banana slices. Fold both sides of crepes over filling. Top evenly with the remaining raspberry puree. Crepes can be cooked in advance and stored in refrigerator for up to 2 days before filling and serving. Place sheets of wax paper between crepes and store in plastic bag until ready to use. #2, Warm Chocolate Banana "Crepes"1 pkg. (4-serving size) JELL-O Chocolate Flavor or Vanilla Flavor Instant Pudding & Pie Filling 1-1/2 cups milk 6 Tbsp. butter 6 Tbsp. brown sugar 3 medium bananas, sliced 3 large flour tortillas (10 inch) 6 Tbsp. thawed COOL WHIP or COOL WHIP French Vanilla Whipped Topping BEAT dry pudding mix into milk in bowl with wire whisk 2 min.; set aside. PLACE butter and brown sugar in large skillet; cook on medium heat until butter is melted and mixture is well blended, stirring occasionally. Add banana slices; cook and stir 2 min. or until heated through. Remove banana mixture from skillet; place in bowl. Cover to keep warm. HEAT tortillas, 1 at a time, in same skillet; remove from skillet. Spoon about 1/2 cup pudding mixture evenly down center of each tortilla; top evenly with the banana mixture. Fold in both ends of tortilla, then roll up. Cut each tortilla crosswise in half. PLACE each half, seam side down, on serving plate. Top with whipped topping. Serve immediately.

• Brazil
2 Aug 07

hmmm,crepes are delicious,i love to make then,and i have a great recipe for you:) Its so quick and easy but looks and taste like a gourmet breakfast! You can use any fruit you would like - strawberries, kiwi, pineapple are all great too!i will give you too the recipe of basic crepes,ok?Basic crepes INGREDIENTS * 1 cup all-purpose flour * 2 eggs * 1/2 cup milk * 1/2 cup water * 1/4 teaspoon salt * 2 tablespoons butter, melted DIRECTIONS 1. In a large mixing bowl, whisk together the flour and the eggs. Gradually add in the milk and water, stirring to combine. Add the salt and butter; beat until smooth. 2. Heat a lightly oiled griddle or frying pan over medium high heat. Pour or scoop the batter onto the griddle, using approximately 1/4 cup for each crepe. Tilt the pan with a circular motion so that the batter coats the surface evenly. 3. Cook the crepe for about 2 minutes, until the bottom is light brown. Loosen with a spatula, turn and cook the other side. Serve hot. Chocolate Hazelnut Fruit Crepes INGREDIENTS * 1 cup chocolate hazelnut spread * 4 Crepes * 4 bananas, sliced * 1 (7 ounce) can pressurized whipped cream DIRECTIONS 1. Spread 1/4 cup of chocolate hazelnut spread onto each crepe. Arrange 1 sliced banana down the center of each one. Roll up, and place in a warm skillet over medium heat. Let them warm up for about 90 seconds. Transfer to plates, and serve topped with whipped cream. hmmm...

• Canada
29 Jul 07
Strawberry Crepe Ingredients: - 3 eggs - 1/2 cp. flour - 1/2 cp. milk - 1/4 tsp. salt - 2 tbsp. butter, melted - 2 tbsp. sugar - 2 tbsp. sliced almonds - 2 tbsp. confectioners sugar - 1 tbsp. butter, melted - 1 tbsp. lemon juice - 3-1/2 cp. sliced strawberries sweetened w/ 1/4 cp. sugar - 1 cp. heavy cream, whipped Oven Temp: 450° F. Beat eggs well. Slowly add flour, beating constantly. Stir in milk, salt, butter and sugar. Pour into a 9" greased quiche dish and bake at given temperature for 12 minutes, or until brown and fluffy. Remove from oven and sprinkle with almonds and sugar. Drizzle with a mixture of butter and lemon juice. Top with berries and whipped cream. Cut into quarters. Serves 4.

• United States
23 Jul 07
I do not think that I have heard of this dish before. You are going to have to explain to me a little more of what it is.