People Say That I Think Too Deep!!!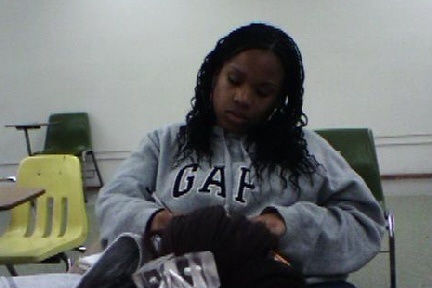 Turkmenistan
July 20, 2007 11:14pm CST
People say that I think too much and too deep. They act like it is a disease or something and I don't even really understand what they mean. I don't feel that I think any more or any deeper than anyone else. I mean, isn't the mind always thinking of something. To me, a person would have to be dead to not think. I believe that one even thinks in their sleep. How else would they dream if there was nothing going on in the mind. Frankly, I am offended, because people usually say this right before they walk away and stop talking to me.
8 responses

• United States
21 Jul 07
I'm a deep thinker too. My husband teases me because he says I think too much and too deeply and that's why I can't sleep at night. The mind is a terrible thing to waste after all...so what if we like to exercise our brains?:P You do have very thoughtful discussions and that is why I like responding to your discussions so much. Being thought-provoking is not a crime and you should continue. I'll be here thinking deeply with you.:)

• United States
21 Jul 07
You keep being the person you are Rozie no matter what others say. Nothing wrong with thinking deeply either, makes us view things in a much deeper meaning you know? I am not much of a thinker but when I read your discussions and others, it gets me thinking too especially about things I have never really thought about before or just thought of on the surface. We can learn a lot from deep thinkers, well I think so anyways. So don't mind them at all, let them be who they are and just shrug it off. I think what it comes down to is that they don't understand it enough to think about it more deeply as others can so their reaction is to walk away and not be bothered by it, I know, I do that sometimes when I don't understand what others are talking about.

• Malaysia
21 Jul 07
Hmm... just ignore those people who said that you think too deep. They are being foolish not to think deeply. I am a deep thinking person too. If something happens, I would require what caused it to happen. I like doing experiments on occasions, and weighing things that might happen if the occasions turned out the other way around. I am happy for being able to think deeply, because not everybody is gifted with this honor from God. We the deep thinkers will always find something valuable that others might not. So keep faith, and keep posting. Have a nice day!

• United States
21 Jul 07
Who cares what others think about your thinking? Go ahead and think as deeply as you wish. That may be the place where your questions will be answered. Just think of how everything on this planet and even the earth itself were the results of someone's or something's thoughts? The thoughts you think can take you to places that will give you what you desire.

• Canada
24 Jul 07
Are they intimidated by you? Or maybe they feel you are doing it on purpose. Have they said anything like that? I new this person where I live a few years back and it was impossible to have a normal conversation with him. It use to get really aggravating not just for me but others too because he seem to find joy in trying to stump you in the conversation so that you were left with nothing to say; like it was a game. It was the strangest thing? A lot of people disowned the person practically. I still talk to him but just try hard to keep the talk to how are you, and the weather! I am sure your not like that but this just reminded me of that guy! Being deep is a great thing it creates wonderful conversation!

• Turkmenistan
11 Aug 07
I do not understand it when people say that I think too much. I understand it a little when people say that I think too deeply. I don't feel think I do it on purpose or as a game. I don't even think about it until someone brings it up to me and then I get my feelings hurt. They don't say it as a compliment, they say it as if there is something wrong with me.

• Canada
11 Aug 07
Rozie now I get it! I totally understand what you are saying. Actually to tell you the truth when I answered your question the first time I just didn't want to talk about me so I choice to tell you about someone else that had a similar yet different problem. I don't know why but I just didn't want to say that same thing happened to me growing up and as always bugged me. It always made me feel different. The very few people I have asked about it said no no it is good you think deep, I wish I did. But eventually would wonder if they were being honest because so many others would say it like it wasn't a possitive thing at all. Someone said to me one don't worry about it. People recognize the wisdom in you and it intimidates them. I tried not to worry about it from that time on but still do from time to time. I have even tried to change. How stupid is that? Maybe this world needs some deep thinkers like us; what do you think?

• United States
23 Jul 07
I don't see anything wrong with thinking deep.One of my really good friends from school is a deep thinker and when we debate about something she really gives details about why she thinks the way she thinks and gives lots of details when she communicates with people. I think that thinking deep is a skill and more people need to learn that skill instead of just talking without really giving what you say thought. I like to spend time alone whenever I ever get a chance just to think. It really helps me to evaluate myself and be creative. Try not to get offended. Thinking deep is a gift.

• United States
22 Jul 07
There is nothing wrong with thinking differently or more deeply than others. I am the same way. I do not believe in religion because I believe that it cannot answer all of our questions about the universe. I believe in common sense, and that people should automatically know what is right from what is wrong. I believe that the mind is more powerful than people give it credit for. I believe that people can be more than what they are, but they choose not to be. Being smart and being intelligent is a great thing. It is having that power and not using it that is ridiculous. My brother was very bright, and I wished that I had his intelligence, he let it go to waste most of the time. A shame to let an intelligent mind go to waste...

• United States
21 Jul 07
My trouble is people tell me things and when I tell them they are wrong and prove it to them they seem miffed..sorry..you are wrong..why don't they just do some research..? sometimes i do the research and send it to them by they will never admit when they are wrong. as far as thinking to deep..i told a man a simple statement...of logic..and they will tell you..wow that is too deep for me! Really,? most people are just shalow thinkers..keep up and don't let these people get you down...it is not worth it in the end just smile :) and nod your head when you encounter these people..