This is what Petie does while I am on myLot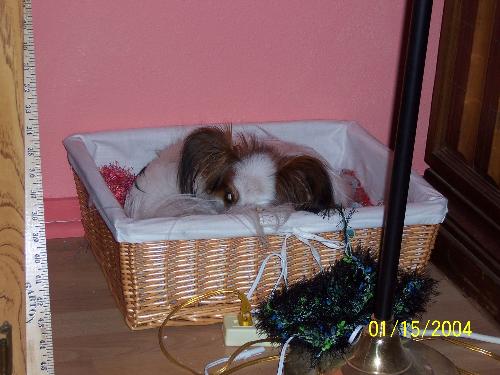 United States
July 21, 2007 7:45am CST
Petie is my 6lb papillion. When is not being Sir Barks A-LOT he is curled up in his bed in the computer room with me while I am here on myLot chatching up on all my emails. He sometimes brings me his toys to throw to break up the day. LOL After I took Petie's photo I could see he was peeking out of the basket at me with one eye. He did not appreciate the disturbance I guess. Oh well I do not appreciate the barking a lot of the time. LOL
5 responses

• United Kingdom
21 Jul 07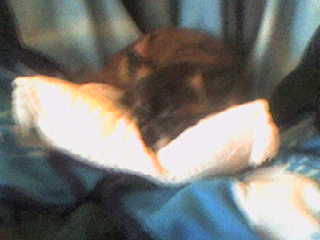 Well I know that feeling as I have had to tell little Fellow here a few times today to quit the Barking to and yes he was not impressed either by being disturbed in his Sleep well I am not impressed being disturbed at 3am when he licks my Face to get under the Cover lol

• United States
21 Jul 07
Hi Gabs, What breed is Gissi? The photo is a little blurry.

• United States
22 Jul 07
AWWW he is soooo cute, I like his coloring. I hope he is back to health now. He looks happy and healthy. Thankyou! Peace, Totty

• Turkmenistan
22 Jul 07
That poor dog has to live with those big cats. No wonder he is peeking with one eye. I wouldn't feel lucky enough to pounce on one of them either. Although, he might want to because of his nature. Oh to be a dog in a cats world, hehehe.

• United States
24 Jul 07
Don't let his picture fool you he is the smallest but his runs the show. He keeps the cats in line.

• United States
21 Jul 07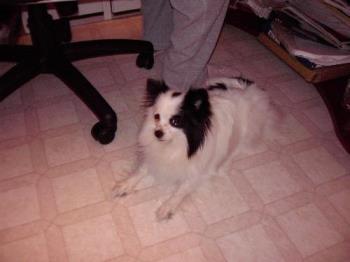 Your Petie is sooo cute, he looks like my Pom, Kiya. She hangs around the the computer room when my wife is on her computer. They look similar. Kiya likes to bark alot too. I have papers that show she is a purebred Pomeranian, but I say she looks like a Papillion. What do you think?

• United States
24 Jul 07
I think she looks like Petie's sister. With her right eye brown and Petie's left eye brown we could have a show quality papillion. LOL. For all who does not know show quality papillions have to have the two dark eyes and the white stripe or balze.

• United States
24 Jul 07
You know, I've been trying to tell my wife that she doesn't look like our other Poms. Then I was looking through some profiles and come across yours and saw your Petie in your photos and I showed my wife. She took one look at him and said "I think you are right, she may have been mixed with a papillion long ago." We do have papers for her and she is a pure breed Pomeranian, but she does look like your Petie. Peace, Totty

• United Kingdom
21 Jul 07
Well I know that feeling as I have had to tell little Fellow here a few times today to quit the Barking to and yes he was not impressed either by being disturbed in his Sleep well I am not impressed being disturbed at 3am when he licks my Face to get under the Cover lol

• United States
24 Jul 07
Petie, cannot get under the covers because he sleeps in a kennel at night. But Sammie tries to redue my hair at night and wakes me up while digging in my hair. LOL


• United States
24 Jul 07
I have the cats and the dog together they play and have lots of fun. I do most of the care. My husband will let them in and out of the house but I do the rest. We have a fenced in back yard so I do not have to walk Petie so the care is not hard. I do take him once a month to get groomed. He loves to go to the groomers. Cleaning the cats box is the worst, I do that twice a week I should do it daily, but I hate doing it.