My niece is almost 2yrs old this Aug 27. How do you cope with tantrums?

Philippines
July 21, 2007 9:12pm CST
Hi, my beautiful niece is about to be 2 yrs old this Aug 27. And i observe that she is starting to have tantrums. Where she cried with that certain complaining effect or so... im not that good with kids yet but im just observing. The tendency to just give-in to what she wants is quite HIGH. But then i wonder what other parents do when their kids are making tantrums whether inside the house or in the mall. Can you give me some tips or idea how you handle them? How you teach them not to make tantrums?
7 responses

• Australia
22 Jul 07
I am not a mother but i am around children ALOT being a photographer. I see that the children that parents or people around them give into the tantrums, make the children throw more tantrums because they know it works to get what they want. The best way to stop them throwing tantrums is to ignore them when they do. Then the child thinks, whats the point of me doing this if it doesn't give me what i want? I dunno.. just a thought :)

• United States
22 Jul 07
My great-nephew is 20 months and he is already there. He is has tantrums almost all of the time and there is nothing you can do, but to let them have the tantrum. Children just have to cry it out, that is all that they can do at that age.

• Canada
22 Jul 07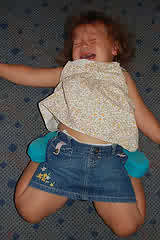 From a Dad who raised 4 Good boys..... I've observed that its not the Kids fault for having temper tantrums, its the Parents fault. When you make a decision NEVER give in. Let her scream and kick and you pay No attention. Sit down and read the paper till she gets tired. Then you can begin again. Don't Give-in. Change the subject. Then when shes quiet, give her a cookie or drink for being good. Never give in. You are the Parent/Caregiver not the child.

• United States
22 Jul 07
Completely ignore them. You can watch them throwing the tantrum but don't say a word. Once they realize that you aren't paying any attention to them, they will stop. The only time you should step in is if they are possibly hurting themselves or someone else. Good luck!

• Philippines
22 Jul 07
My son who's turning 4 this September had already passed that period. Mainly, it's a case-to-case basis. When we're at home and he started his tantrums, I just let him scream and cry. I tried at first to lift him up and stop him from crying, but it didn't work. The more I went near him, the more he'd scream. So, i eventually let him do his thing until he got tired. But I made sure that I was always watching him as he dis his tantrums. He might have gotten hurt by his kicking antics. But when we're at a public place, I never wait for him to stop crying. He got more stressed with people staring at us so he cried and screamed a lot louder. So, when at a public place, and his tantrums started, I immediately picked him up. He would pull at my hair and would really thrash around. But I just held on to him tightly and made a shussing sound in his ear. He liked that and calmed him slowly. Dealing with temper tantrums is like experimenting with different methods. You just have to use the best one that will benefit both of you, especially the child.

• United States
22 Jul 07
The old terrible twos got to love them. My grandson just got over them. My daughter would not take him any where because of the tantruams. She would take him to the car until he was over them and then bring him back in just to have another round. At home she would send him to his room. But she never gave in on his demands no matter what. Just as soon as he turned three he is so quite you don't know he is around. What helped my daughter out was telling him that jesus was watching him and if plans on being an angel when he grows up he had better behave. She also would distract him from what he was looking for or what the tantrum was about. That works some times. Good luck with the child and hugs

• Australia
22 Jul 07
My 13 month old is starting to do the same when she doesn't get what she wants, all you can do is ignore the tantrum, get up & go do something else so the only one seeing the tantrum is the child :) It will take a short while but it definitely works. It's hard but kids don't understand at that age - well they do, but they have to learn what is acceptable & what isn't so if you don't give in, they soon realise it's not worth the effort to throw a tantrum coz it wont get them what they want anyway! My nieces are 2 & they tried the tantrum thing with me, i told them no & walked away, it seemed to work so try that! Make sure everyone else walks away or just stays & ignores it as well though coz they will continue to do it, if 1 person insists on giving in. Kids just need to know they cant have everything they want & if they are told NO then that should be the end of it!