My puppy crush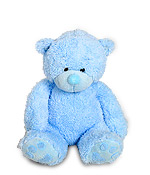 India
July 22, 2007 1:57pm CST
it was in my fourth grade that i thought i saw an angel thought i was in love with her when i even didnt know wht that 4 letter magic really was but just as she used to pass by me my cheeks would go all red just then the news spread among all my class mates nd every time she entered my class they would shout out ma name nd becoz of which i would hide under ma desk ... nd becoz of this i couldnt make friendship with her at all , this continued till my 8th grade when i thought it was high time i end this mater for once nd for all so i made up my mined nd proposed her nd she knew not wht to say so she offered me her friendship ............. nd till date i still love her from the bottom of my heart but i couldnt still convince her abt wht love is nd how much i love her .......................
2 responses
• India
23 Jul 07
if she'z really ur dream girl... den watever she says shldn't matter to u at al... lets take an example of my love, its the same case as urs but wit a twist. she not only stole my heart but she also accepted my proposal after a while... later den things wer loookin out gud until a day tht really sent a shock to both of us... things wer never the same as before... its a long story but i shall continue same other day..

• India
23 Jul 07
man bro abt ur love buddy i guess its high u better step up nd speak to her so come on now cheer up nd thanx

• Philippines
26 Jul 07
You must be truly in love with her because it's been so long but until now you still have this feeling for her. As long as she is free, there is nothing wrong about expressing and showing your love to her but of course, her feelings should always be respected. I hope that you can finally figure out if she wants you as a friend or if your love has the chance to be accepted.

• India
28 Jul 07
hi do u remember the dream I told you about I feel exactly the same way when I'm with this girl, the girl in my dream behavior is some what pretty similar to my friend who is my puppy crush, though she is my friend her demands and responses are like as though she is my girlfriend but it can also be that we have been so close and together for about 6years now may be thats why she feels free and heads on with her demands and fights getting angry and stuffs like that, thats the only reason I'm holding back cause I don't know how she would respond and I don't really want to hurt her feelings at any cost I would rather Be her friend till my last breath than hurting her in an attempt of trying to tell her how I really love her. ?