Have you used a FAKE ID before? Yes or No? and why?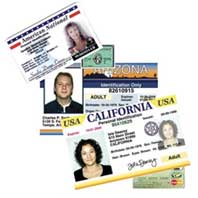 United States
July 23, 2007 2:52pm CST
I'm guilty of using a fake ID. When I was with my babie's daddy, I was only 15. He was old enough to go to clubs, but I wasn't. He had his sister give me her info so I can get an ID. I ended up doing that and every time we went out clubbing and stuff, I nearly pass out because I was so scared to get caught. My kids have asked me about fake ID's and their friends having them. I didn't deny using one to them, but I did explain to them I wasn't happy about doing it and I stopped using it close to my 16th birthday because I didn't want to suffer any consequences having had one child back then. Have you used a fake ID? Who's identity did you use? Why did you fake? Would you do it again? I want the 411!!
1 response

• United States
23 Jul 07
Since me and my sister look alike, i could use her's and she is 2yrs and some months older than me. No i didnt get caught although they would call me her name and i wouldnt respond! heehee