do snake eat people?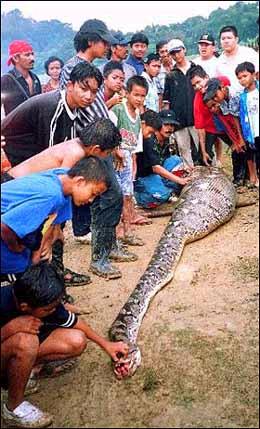 India
July 23, 2007 5:44pm CST
i had seen anaconda film and snake eating peoples. but i didn't thought of such real snakes which eat people also. its the real film taken at south sudan. a big snake eat a secutiry guard fully and trapped in aelectric fence when it try to go out. then it is cut and dead body of security taken out of its body. its terrible to see such scenaries. still such things happen?
2 responses


• United States
23 Jul 07
First of all I hate snakes. But yes snakes do eat people, It has to be a large snake to get the kob done. So if you see a large snake stay away or it will have you for dinner.