I bought some new HD DVD films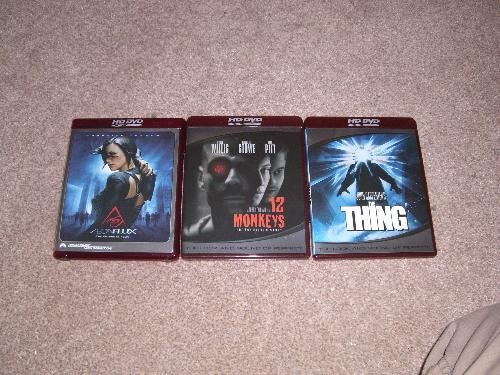 July 24, 2007 9:58am CST
I bought some new HD DVD films today.:) I got: 12 Monkeys AeonFlux The Thing I just watched 12 monkeys, it was great. I hadn't seen it before. I haven't seen AeonFlux yet, but I'm going to watch it in a bit. I have seen The Thing before, its a legendary film.:) Anyone else own any HD DVDs? I love the quality, well worth getting if you have an HD compatible TV.:)
4 responses

• United States
24 Jul 07
I have not entered the new technology phase yet of HD dvd's or players- They dvd players are quite expensive still- plus I have many questions- Do you need a special high def. TV to use a high def. DVD player? I bet the quality is a lot better. New technology usually is better- I'm looking to buy a new TV for my daughter this year for Christmas – maybe I'll break down and pick up a special one to check it out-

• United States
24 Jul 07
12 Monkeys and The Thing (one of my all-time faves) are great. You have to watch the extras on The Thing DVD...there is a bit about how they did all the effects. It's amazing...lot's of polystyrene and fairy liquid. Aeon Flux I switched off after about 20 minutes...thought it was awful. I have an HDMI cable from my DVD player to my TV which gets me as close to high def as you can without actually buying it.

• Denmark
24 Jul 07
Why oh why would you want to buy HD-DVDs? I own a lot of Blu Ray movies. You should support the Blu Ray format, as we all know that's going to be the format of the future. It's going to be annoying for you when HD DVD goes off the market. ;-)

• Denmark
24 Jul 07
Really? I've bought several Blu Rays off ebay.co.uk and amazon.co.uk have a lot of them as well. A few reasons to pick Blu Ray over HD-DVD: Blu Ray ca store more data - makeing it possible for better picture, better sound and more extra features. Blu Ray is outselling HD-DVD 2:1, so it's the leading format in the "war" Blockbuster just announced that they will only be renting out Blu Rays NOT HD-DVDs The PS3 supports Blu Ray - so you can get a very cheap Blu Ray player combined with the future of home entertainment. Most movie studios support only Blu Ray. Just wanted to give you a heads up before you invest too much money in your HD-DVD collection :-)

•
24 Jul 07
HD doesn't need more than 25gb for a start. Practically all Blu-ray discs use way less than 25gb. Your sales figures only apply to North America, in Europe HD DVD sales are way higher than Blu-ray. Another thing ps3 sales are really lame. lol Most movie studios only support Blu-ray? I doubt it. Either way HD DVD has released way more films than Blu-ray and their line up is way more. Plus HD DVD player and the discs themselves are a lot cheaper to produce and sell for a lot cheaper to the consumers. Just giving you the heads up. ;)


• United States
29 Jul 07
I think those movies are just great and I am glad that you have them. I will someday buy them when I am rich enough.