Are microorganisms friend or foe?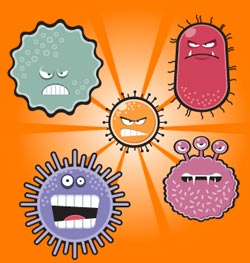 Malaysia
2 responses

• United States
12 Jan 08
They can be both, depending on the microorganism. Some are harmful or fatal to humans, and others are essential to life--like the ones that live in the digestive system and make the breakdown and digestion of food possible. There are of course many dangerous ones, like some strains of E. coli or cryptosporidium of staphylococcus.

• Malaysia
12 Jan 08
Thanks Idlewild!I've posted this discussion for months now.Only today 2 people replied.Thanks again!

• Canada
12 Jan 08
I believe that some of them are friend.If we did not have these little things,well i think we would have something bad break out like a new big bad microorganism that would get rid of the human race fast. Penautjar:)

• Malaysia
12 Jan 08
hey peanutjar!thanks for the response,can you forward me your no response discussion?can't seem to find any with no responses.and you started a lot of discussions to start with!lol.thanks again!