How to Build a Social Life as a Senior Citizen? do you care for it?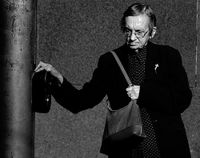 China
July 25, 2007 9:29pm CST
When a mature person loses a spouse, a close friend, or even a pet, it can be very easy to lose perspective on life. It is all too easy slip into sadness and seclusion and stop relating with people who once filled an important part in daily life. Children (if any) have often moved away and are frequently so heavily involved in their own lives, with work, children and other obligations that they cannot spend a lot of time with their aging parents. Although experiencing loss and loneliness as a senior citizen is difficult, it is not impossible to develop a new social life. A good attitude is a major factor, as is making most of the opportunities that come your way. do you have some ways that you can begin to build a fulfilling social life for yourself that will help you to live meaningfully and with purpose?? just share your opinions.
1 response

• United States
26 Jul 07
It is sometimes hard to be a senior citizen, and to keep a positive attatude and keep going,depression sets in very easily. I think church ,voluntere work, online games(even online people can be good friends),maby join a senior citizens group.it is tuff when our children grow and have less time for us maby you can babysit for a neighborhood mom a few hours a week. there are many things you can try.