SRK in his 60s...

India
July 26, 2007 11:52pm CST
Hey guys, the time will come when SRK will be 60 years old. Do you think he will be as big an icon as Amitabh Bachhan is in his 60s? Would he be able to emulate Bachhan? Will he able to match the personna set by Bachhan? Share your views all you die hard SRK fans (and those who are not as well!!)...
2 responses

• India
7 Aug 07
Oh, i think he will be much bigger a star than what Amitabh is today. In Amitabh's time, he didn't have that much exposure overseas as SRK has at present. So, in that case he will be much bigger. As far as emulating him is concerned, he's already at it. He's made Don, done KBC, and also got the highest French award(dn't remember the name) and also got a place in Madame Tassaud's, which all have done by Amitabh before. So, SRK has done it all which Amitabh did it when he turned 60... So he will regn when he reaches Amitabh's age...

• Poland
21 Oct 07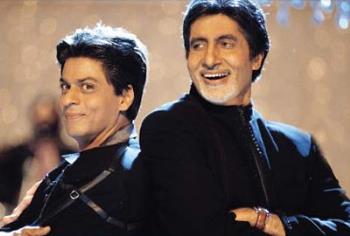 I'm responding as a foreigner. I live in Poland (Europe) and I'm a fan of Shahrukh Khan:) I think he is a great and charming actor and he's quite popular in my country. Actually one of my friends has his picture on the wall of her room xD Now for Amitabh Bachchan - I've seen him first in KKKG (it was the first time I've seen SRK as well, heck it was my fist bolly movie xD). I liked him too, but SRK's smile is cuter:P Then I've seen Veer-Zara and his small role in Paheli (I didn't like this movie too much, though:/). Overall I think SRK will be bigger in his 60s and I've heared his "Dilwale Dulhania Le Jayenge" (amazing movie, I watched it 15 times already;)) is a true evergreen so I don't if Bachchan achieved that.

• India
22 Oct 07
Yeah, u r right.. He has lots of fans worldwide, like u.. DDLJ has been the longest running film in Indian film history, even longer than Sholay.. So, u can truly make out how big a star he is.. I also think he will be much bigger than Amitabh.. And of late, I've begun to unlike Amitabh a lot also, coz of his selection of roles as well his offscreen antics.. Shah Rukh scores well on both the pitches.. He's a real superhero... Neways, thanks for sharing...