Connecting TWO computers, help needed

India
July 29, 2007 6:54am CST
How should I start....? Hello friends, , I need your help in connecting two computers with the aid of one Ethernet cable only. I don't want to buy a router or something for these things are meant to connect more than two computers and I don't like to have something which I can't use in its full. So can someone please give me their precious advice on how to perform this task. I searched on net but didn't get a satisfying answer. Please don't give any link ;)
5 responses

• India
29 Jul 07
you can connect two computers using a serial-to-serial cable... theres more info in the computer (windows) itself. i used to do that years ago.. to transfer data mainly. if that's of any help.

• India
29 Jul 07
Thank you for the help :)yes I saw this help topic. My real problem is that I am getting too much choosy and want to use the Ethernet cable only for though I may look so, I am not much interested in computer works and just don't want to go get a serial cable for me. Too bad, no?;)

• India
29 Jul 07
No need to be sorry. At least you had to something to offer...only if I was not so stubborn ;) I hope someone will come as now I don't think much of the people.
• Belgium
29 Jul 07
hi , see , the friends thingy already helps :d for connecting two pc's with an ethernet cable , dont search , it doesnt work :p the thingy you need is a ethernet-cross-over cable. The difference between a normal ethernet cable and a cross-over is the cross-over element (very obvious , istn it:d) in the cross-over 2 cables who are parallel in a normal ethernetcable are crossed in the cross-over. so you should buy one. dont be afraid , its cheap :) and when you connect the two , be sure to set them in the same workgroup, and to give them static IP's. hope i helped a bit. greetings

• India
29 Jul 07
Thanks for the help, it really sounds well. I was not aware of the difference though it seemed hiding somewhere. Ok I'll try to buy one. And yes the friend thing does help. Though I'm sorry for I don't post much and disappear suddenly without any warning. So keep me checking;)
• Belgium
29 Jul 07
no problem , yeah , the difference between them is something with the power suplly , you might have noticed when you just connect 2 PC's with a normal ethernet cable ,it says the cable isnt connected , well , this is why you need a crossover cable . greetz

• Philippines
31 Jul 07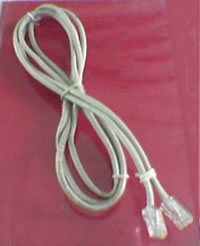 If you have only two computers (desktop PCs or laptops) and both computers have either built-in or additional Ethernet network adapters, you can connect both computers directly using a crossover cable. Crossover cable is an Ethernet cable (usually Cat 5 or Cat 5e) that has pins 1, 2, 3, 6 on one end crossed to pins 3, 6, 1, 2 on the other end respectively. Like standard (straight-through) Ethernet cable, crossover cable is also terminated with RJ-45 connectors. Please note, if one of your computers has an auto-crossover (a.k.a. auto-switching or auto-MDI/MDIX) Ethernet port, you can connect them using either crossover or straight-through cable. The direct Ethernet connection works like an Ethernet network that is equipped with Ethernet hardware, i.e. hub, switch, or router. It can be used to share files, folders, drives, printers, and peripherals. It can also be used to share an Internet connection or play a networked game. Most consumer Ethernet adapters support 10/100BaseT with autosensing. It means the direct Ethernet connection can switch from/to 10 Mbps or 100 Mbps transmission speed depending on line condition. Therefore, a direct connection between two computers using Ethernet crossover cable is faster than using either serial or parallel cable. Moreover, Ethernet cable can reach longer distance (up to 100 meters) without repeater and you don't need to buy additional software to configure the direct connection. Source: http://www.conniq.com/WinXPNetworking_Ethernet_direct_connection.htm

• India
2 Aug 07
Thank you for giving me this useful link :) It seems I did need need links to provide myself the knowledge with more depth. Thanks!!!

•
29 Jul 07
http://compnetworking.about.com/od/homenetworking/a/connecttwocomp.htm

• India
29 Jul 07
Thanks for the link:) Seems you didn't read my entire post ;)

• India
30 Jul 07
hey you neednot worry.its very simple.the only way to connect two computers without a hub/switch/router via ethernet is a crossover cable. crossover cables are special and different from patch cables or what you say as straight cables.if you are connecting computers to a hub or switch you can do it with patch cables.but without a router, crossover cable is required.you can rewire your patch cable to a crossover configuration.but if you don't have access to the tools then it would be much simpler to go out and purchase one.i think that would be best for you. you can find more information on this website: http://www.dslwebserver.com/main/fr_index.html?/main/network.html i hope it works for you.best of luck and happy mylotting.