Siberian Huskies fatally maul an 11-month old baby...

United States
July 30, 2007 2:07am CST
Detective Jimmy Patterson of the Putnam County Sheriff's Department said Trey Paeth was pronounced dead Monday afternoon after the mauling in a bedroom at the home of Allen McCaffrey just outside Cookeville. Patterson said the boy's parents, Chris and Casey Paeth, were visiting McCaffrey. They are in the Marines, assigned to Florence, Ala., Patterson said. Two adults and several children were at the home when the attack occurred, but apparently were in another part of the house and heard nothing, the detective said. The dogs have been destroyed. Patterson said he does not expect anyone to be arrested. "The owners advise that there were no signs of aggression whatsoever. They've never had problems with the dogs interacting with their children. It caught everybody completely by surprise," said Patterson. Deputy Bill Hunter, an animal control officer, told the Cookeville Herald-Citizen that the playpen had holes and blood stains on its screen. "This is such a tragic case," Sheriff David Andrews told the paper. "You just can't measure how tragic it is." I can't believe this! It is not like a siberian husky to do something like this. Most of these dogs are very gentle with babies and children alike. I still can't believe it! What do you think?
4 responses

• United States
1 Aug 07
There are a number of factors that make an otherwise gentle dog turn on someone. One that many ppl don't realize is inbreeding or bad blood somewhere in the bloodline. You breed sister to brother, you never know what the outcome will be. They could be normal pups or totally wacko ones. I know a few dogs that are a breed known for being excellent family dogs but yet are mean as the devil and refuse to let my daughter go near them. Yet you have dogs like the pit bull, rotties, dobies that are 'known fighters' be the best dogs. Depends on breeding, upbringing, and bloodlines.

• United States
30 Jul 07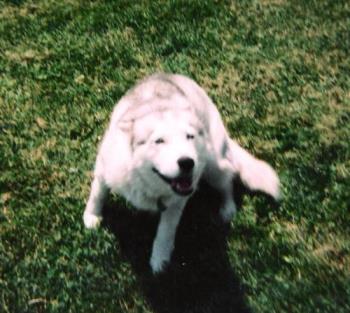 Wow! I guess the animal control people will want to kill all the huskies when they are done with the pitbulls. My Siberian Husky was the most lovable creature to any and all people, particularly children.

• United States
30 Jul 07
it to bad but it happen with all dog or cats

• United States
30 Jul 07
my dad was attacked by a husky. he'd had the dog for almost a year, it had always been gentle and loving, never showed any aggression whatsoever, and had come from a friend of the families home-so we knew it had never been abused...then one day while he was sitting in the yard petting it, it just freaked out and started going for his throat!! the only thing that saved him is my step-mother brought out a pistol and my dad managed to get it!! sure its a bad story about a husky, like there are bad stories about pits..but there are always the oddballs that just seem to lose it in the head or something. i cant imagine losing a baby to a trusted member of the family though..i mean its unimaginable!