baby's lock of hair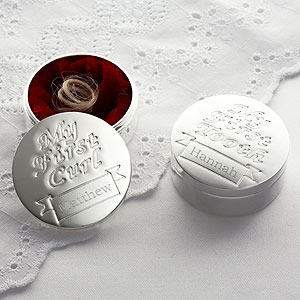 United States
4 responses

• United States
30 Jul 07
yes i did,i saved a lock from all three and put it in a small ziplock bag and put it in their photo album.and i titled it first hair cut.im a hair dresser so i had to do it.lol

• United States
30 Jul 07
thats good you did that. Did you give them their first hair cuts? Thanks for sharing

• United States
30 Jul 07
yes i did give them their first haircuts.they sat so good for me,i was so suprised.but they see mommy doing everybody elses hair so maybe thats why they sat so good.i know from experience when i had my hair salon,you had to try to calm some kids down because they were afraid.

• Canada
31 Jul 07
I saved a piece of my daughters hair in ana envelope as well and keep in in her scrap book...she's 19 now. I also have a piece of my own hair from my first hair cut and my mom saved in a made up envelope of waxed paper,lol. That piece of hair is 37 yrs. old and still baby soft.

• United States
31 Jul 07
Isn't that amazing how it stays soft like that even after being long ago that it was cut off. Thats good that your mom saved your hair and you saved your daughters hair. Thanks for sharing

• United States
30 Jul 07
I saved my first childs lock of hair. I put it in a ziplock baggie and put it in his scrap book. I never did this for my other children. Really, what are they going to do with it when they get older?

• United States
30 Jul 07
I like feeling how soft my hair was. Its nice that my mom saved mine.

• United States
31 Jul 07
I have my sons in his scrapbook. I like to see how light his hair was when he was so young and how it was a little curly. The shop that he had it done at had a postcard with a little window in it, a plastic bag o the other side. Really cute. I just cut my daughters hair and I put some in a zip lock bag. I am not sure how I will put it in her scrapbook. I need to get her one first...lol. I switched to digital scrapbooking 1/2 way through so I am all messed up. I do have a little ceramic container for both of them but didn't want it to get knocked over or something. I have a memory box for everything else.