Kids really do listen... even though they don't think they are.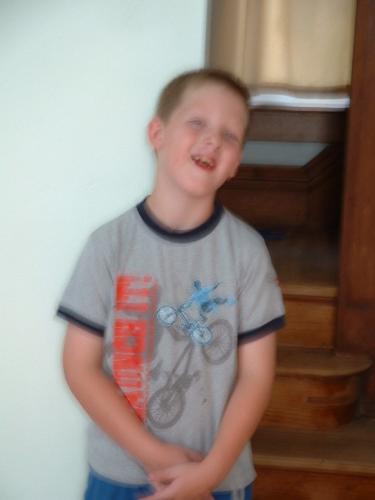 United States
July 30, 2007 3:33pm CST
I didn't think I'd ever get my children to eat their salad greens. Every time I serve them, they give me a turned up nose, and say they don't want to eat it. I ask them to try it, and then they can be done. They do, but very grudgingly. Well, My children just spent the weekend with my parents. On Saturday, Grandma and Grandpa decided they would take the kids to Pizza Ranch (a pizza buffet resteraunt) for dinner. My parent's idea of a healthy meal is cheetos and hotdogs. (not really, but they eat like the kids, not like grown-ups should! LOL) Anyway, at the buffet line, my kids each take lettuce with their pizza. Then, they went back for more pizza, and came back with more greens on their plate! My son made a third trip and came back with even MORE lettuce. Now, they didn't eat it with any dressing (they don't eat it at home either.) My mom asked why they had so much lettuce. My son's answer... "Mom said we had to eat it!" Now, isn't that cute? Guess it goes to show that persistence on the parent's part, the message finally sinks in. I guess my next veggie to get them to like will be beets. Nah... I can't even eat the beets!
4 responses

• United States
30 Jul 07
o..that's so cute. I think kids actually listen when we the parent try to tell them something. I know in the process a lot of time it seem they give us such a hard time..LOL. My daughter sometimes act like she ignore everybody and everything we say, but I do know somehow, in her way, she does pay attention of what's going on. Hey, good luck with the beets!

• United States
30 Jul 07
I'm glad that your daughter reacts the same as mine. I swear I really don't have a clue what is running through their minds at times. I don't know about the beets. They haven't been one of those veggies real high on my priority list. LOL!

• United States
30 Jul 07
I love pickled beets and Harvard beets [candied beets served hot]. I don't like them just cooked, though. Try Harvard beets on them. They are sweet and good.

• United States
30 Jul 07
Harvard Beets Recipe found on-line. I just buy them already canned, in a jar from the grocery store. :-) Ingredients 2 bunches beets with tops (2 pounds) 3 small red onions (1 pound), not peeled 2 Tbsp extra-virgin olive oil 1/3 cup chicken broth 1/4 cup balsamic vinegar 1 tsp brown sugar 1 tsp fresh thyme 1/4 tsp salt 1/4 tsp coarsely ground black pepper 1 Tbsp fresh parsley Instructions Preheat oven to 400 degrees F. Trim all but 1 inch of stems from beets. Place beets and onions in nonstick oven-safe 10-inch skillet (if skillet is not oven-safe, wrap handle with double layer of foil) or in 13 by 9-inch baking pan; drizzle with oil. Roast, shaking skillet occasionally, until onions have softened and beets are tender, about 1 hour 30 minutes, transferring vegetables to plate as they are done. In same skillet, combine broth, vinegar, brown sugar, and thyme; heat to boiling over high heat. Boil, stirring and scraping bottom of skillet, until vinegar mixture is dark brown and syrupy and has reduced to about 1/4 cup, 5 to 7 minutes; stir in salt and pepper. Remove from heat. When cool enough to handle, peel beets and onions. Cut beets into 1/4-inch-wide matchstick strips and onions into thin rounds; place in bowl. Pour vinegar mixture over vegetables and toss until coated. Sprinkle with parsley. Yield: 6 servings Per serving: about 103 calories, 2 g protein, 14 g carbohydrates, 5 g total fat (1 g saturated), 0 mg cholesterol, 203 mg sodium

• United States
30 Jul 07
Candied beets. Hmmm... I may actually like to try those. I have to admit, beets really aren't, well, I don't like them, at all! I think the color is beautiful, the deep burgandy red. The smell of pickled beets truely do turn my stomach. (It may have something to do with serving them in the nursing home when I was a cook there.) My dad also used to serve them just cooked, with vinegar on them. I do think the kids eat what the parents eat, and I also think that beets are something they should at least try. I may have to search the stores for a can of Harvard beets, so I don't have to dye my fingers. LOL! Thanks for sharing the recipe, though. If I find a can and like them, I'll know what to do with any beets in the future!

• United States
30 Jul 07
Thats cute. I wish I could get my daughter to try things when I put them on her plate. She would rather go hungry than try new foods at times. Though I am blessed cause she absolutely loves salad, broccoli, green beans, squash, carrots and so many other veggies. :) (Unlike her mama who's quite picky!)

• United States
31 Jul 07
Good for you onecutehoneybear! It's not often I find little ones eating their veggies. Keep trying the new foods, eventually your daughter will learn that's it's OK. I always tell my kids that they don't have to like it, just eat it. I've also learned that you should never tell a child how good it is, or how good it is for them. Just relax on the taste testing, and let them know it's OK not to like it, but they need to taste it before they KNOW they don't like it. It's a LONG process, but it does work.

• United States
30 Jul 07
Make them eat broccoli it is very healthy and beans too...lol. Persistence can win the issue especially if there is not good reason to be fighting against it.

• United States
31 Jul 07
Yes, you are right. That persistence game does pay off. My son FINALLY started eating broccoli after playing that game for a long time. He now requests it for dinner on some nights. His favorite veggie is lima beans. I think it's odd, but he will eat a whole can of them if I'd let him. :) I am very fortunate that my children eat their veggies. We're just trying to expand their pallets. Maybe instead of beets we'll try okra. That's something I don't think I've ever had. :)