Jesse

United States
July 30, 2007 9:32pm CST
I just don't see Jesse as becoming a villian in this show! She really just wants to be friedns with Lori, and she really likes Decklin. And she is learning to make her own decisions and she just wants to be normal. I don't see her turning against Kyle, Decklin and Lori.
5 responses

• United States
31 Jul 07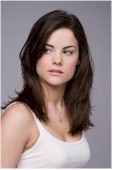 She may not have a choice. It seems like Medacorp can re-program her at will. That guy referred to her as a computer in need of a reboot. I want her and Lori to be friends too. I was proud of Nicole for standing up for her against her "sister".

• United States
1 Aug 07
Yeah, now that I saw the new episode and they are going to try to change her, that might not be too good lol. But I would prefer her as a 'good guy' rather than Kyles enemy.

• United States
6 Aug 07
But isn't she the one that attacked Lori out of jealousy over Declan? I think Jesse is confused like Kyle was in the beginning.And he turned out good because he had the Traegers helping him. BUt Jesse is not so fortunate. I think she is turning into the opposite for the same reason of not having a good family like the traegers. You have two kids with the same unnatural abilities and what is happening to them from being treated with goodness and badness. I want her to have a chance like Kyle did and let her decide how to be from that. It could make her a better villian if she chose that way. Why does she have to be a villian anyways?

• Philippines
26 Sep 07
Jessie may probably be the villain from the very beginning. Basing on the last episode of the mid-season finale she was made to betray Kyle. Even though she tries hard to stop herself from doing it she still did when Kyle connected with her in order to communicate with Adam Beylin. A pretty interesting assumption here would be, Adam's girlfriend is Jessie's sponsor and that her sponsor is one of the people, other that Taylor and Professor Kern, who used Adam's experiment for their benefit and betrayed him in the end. Just a thought.

• Philippines
6 Nov 07
I have already watched the first half of Kyle Season 2.. and the episode finale (ep.13) showed that Jessie betrayed Kyle (I won't spoil you on this)..I'll just tell the last part, as Kyle and Jessie tried to read each other's minds.. Jessie felt like she betrayed Kyle by doing what Madacorp is programming her "to read kyle's mind to know what kyle knows about the company"... after that, Jessie ran and took her leap of faith by jumping off a cliff" The second half of season 2 will be aired in 2008, same as season 3 .. huhuhu.. we still have to wait for months! :(

• United States
13 Aug 07
I haven't been able to get into the new season, beyond watching the season opener. I'm not sure why but I'm just not finding this season at all appealing. Maybe I'll catch up om the next marathon session they do or watch it on DVD.

• United States
1 Aug 07
It'll be interesting to see what they do with Jesse. I have a feeling it will be a constant conflict. That she will be programed to be a "bad guy". I wonder if it was her programing that made her beat up Lori and steal the necklas that Decklin gave her or just the fact that she doesn't seem to understand human emotion yet. I believe it took Kyle a few episodes before he learned human emotions. She needs to be taught how humans feel before she can feel like a human, before she has empathy. If she never learns this, then she will continue to be controlable, "like a computer". But, as we've learned with Kyle, she's much more than a computer.