Anyone have any wild-food or gatherer recipes? What's your favorite?

United States
3 responses

• United States
31 Jul 07
My favorite wild food is purslane. I always try to gather enough to freeze for the winter. One year I pickled some, it was so good! I also gather dandelion greens, buds, flowers and roots, lambsquarter and amaranth. I have wild salsify growing in my backyard this year, so I'll get that this fall. I use to gather slick dock and daylily buds and tubers (is that what you call it? They grow like potatoes). Neither of those grow where I live now, though. We've picked wild strawberries, raspberries, chokecherries and gooseberries, but those are not close enough now, either.

• United States
1 Aug 07
Lambsquarters I love, esp. in a salad with yogurt. The combination gives me a natural high. I think it's because of all the vitamins and minerals. I know amaranth is edible, but I haven't used it. How do you use it? Purslane really hasn't come up in sufficient quantity for me to use it. They say it tastes like okra and okra by itself is not a food I can handle. But in Cagin food where I can't taste it, I like it. Do you think it tastes like okra? All those wonderful berries! Wow! You must miss them. When I moved, I lost some berries and gained others. Have you ever had a wild food exchange or pot luck? That way you can get some of the wild foods you lost back and learn about some new ones in your area. Thank you for writing. I appreciate it. Take care

• United States
1 Aug 07
Lambsquarters is one of my favorites, too. Amaranth is used like it, as a cooked green. Just use the small, tender leaves. You can also gather amaranth seed and use it in bread, or, if you can get enough of it, mill it into flour. I've never had the patience to do that. I don't think purslane tastes like okra at all. It has a unique flavor that's hard to describe, but it has a slightly sour, tangy taste. You can fix it like okra, though, by dipping it in egg, corn meal and salt and frying it. I use it in omelets, soups, and raw in salads. If you have a little of it available, just nibble on it to see if you like it. I've never had a wild food pot luck because I don't know anyone who eats it besides me and the lucky few I feed now and then. It would be cool to get some more conversations going about wild food on myLot.


• Canada
31 Jul 07
Oh, how I love wild foods. In the spring I gather new dandilion leaves to put in salad. Then come the fiddle heads. Those are a type of edible fern. They are eaten like a vegetable when they are still curled up. You boil the curls like broccoli and eat them with lots of butter, salt and pepper. I don't collect the fiddle heads myself but buy them at a market. They usually come from Nova Scotia. Then the wild leeks. I also buy them at the market but they grow in the woods where I live in Ontario. In Prince Edward Island where we used to vacation there are wonderful aromatic wild strawberries. We used to eat them fresh every morning on cereal or toast. Out West in Saskatchewan there are Saskatoon berries. Similar to blue berries but on bushes or trees. They make wonderful pies and jelly. My friend and walking partner and I discovered a few trees this year right here along a trail that we use. We picked them and I made a few jars of jelly. Now we are picking wild black rasberries (blackberries). I have made some wonderful syrup out of them The colour is a rich ruby colour and the syrup tastes wonderful on icecream or pancakes. To get rid of the pips I boil up the berries and press them through a cheese cloth bag. Later on in August I will be visiting friends up North in Northern Ontario and hopefully pick blueberries to freeze and use up in the winter. Later in the fall I pick wild grapes. It seems there will be a bumper crop this year. The vines are full of green grapes right now. I strip the berries off and boil them up and press through a cheese cloth bag to get the juice only since there are quite a few seeds in them. Then I sweeten the juice and freeze it. Sometimes I make grape jelly. Some people I know pick mushrooms in the fall but I don't since I don't know mushrooms very well and it makes me nervous. Some years I have also picked crab apples and wild apples but they are too labour intensive since a lot of them are wormy. One year we stopped at a rest stop off the highway. There was a forest and and a trail nearby. Along the trail I discovered a wild plum tree full of fruit. We picked some and I made some plum jam. Never tasted anything more delicious. One year also up North we discovered patches of wild cranberries. I picked those and froze them. I made cranberry sauce for Christmas . Mmm I love wild edibles. How about you? what do you collect?

• United States
31 Jul 07
What do I collect? Well, raspberries, blackberries, grapes, grape leaves, roses, leeks-when I can find them, cow vetch seeds. fiddle head ferns (looking for the awesome quiche recipe I had at a dinner, students from Paul Smith's College had made it), a berry that looks like a raspberry, but it's flatter, wider, and has leaves that look like a maple leaf-is there a way to make them taste like something?, dandelion flowers (put pancake batter on and fry, also use for medicine-I gather lots of medicine plants), Yellow dock and long dock greens-only when very tiny, and Queen Anne's lace flowers to make flower pancakes. Wild apples if the deer don't eat them all first. I don't take too many because I feel they need them. Edible sumac fluff from staghorn sumac for sumac-aid. It depends on the year and what comes up. It's a wet year, so I haven't seen purslane. On Helium, my about me page has whatever I'm currently gathering whether it's a medicinal or food plant, it's there. I have more medicinal than food plants this year. Like yarrow, Mother Wort, Jewelweed, etc. I also like useful plants like bouncing bet which is a soap plant out here in the top part of NY State. The only mushroom I've ever gathered was a giant puffball as a kid. Once something gets to be the size of a basketball, that would be a giant puff ball. My cousins are serious mushroom hunters and belong to the society. Under interests, I have gatherer on mylot. They have me as the only one. Do you have something like that? I wrote another discussion here, but I put it under gatherer so almost no one saw it. You're a serious gatherer. That's great!

• Canada
31 Jul 07
Oh oh you are a serious gatherer. What do you do with the cowvetch seeds, the yarrow and the jewel weed? There are thousands of jewel weeds right now along the trails that we walk. It is the one with orange blooms and very fragile and almost translucent leaves right? You know, the berries that are red and flatter than the raspberries with the leaves like maple leaves, I gather them too but eat them on the spot since they seem to disintegrate immediately. The pods of milkwee when they are tiny are also edible. I never take any because I like Monarch butterflies.

• United States
1 Aug 07
Cowvetch seeds are a survival food of the despiration-type. You're not supposed to gather them because they take more energy to gather than they provide for food. But I need to loose weight...ha,ha. They look like really tiny pea pods for a tea party with a minature doll. I cook the seeds and put them in milk and melted butter. Sometimes I throw a few raw into a salad. But very many raw upsets your stomach. Probably why it's cow vetch! Best to gather if only you see a few while you're gathering something else. Yarrow, leaves make a good teeth cleaner if you're eating out in the woods without a toothbrush. Just rub back and forth and discard. Dried and powdered for use on wounds like a bandaid. White flowers dry or fresh boiled for tea as a mouth gargle. Jewelweed is for skin, esp. itchy afflictions. I went to a reinactment this summer and venders had it in soap. Olive oil and jewelweed soap as well as the old time lye stuff. Wild cranberries, I'm so envious. Had some at a wild food pot luck that I hosted. Wonderful! Take care


• Brazil
2 Aug 07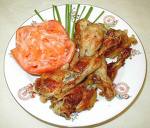 hmm,i have a different and delicious recipe for you,hope you enjoy it:) Frog legs sauce picante Yield: 2 Servings Ingredients: * 1 tb Olive oil * 12 Frog legs * 1 tb Flour * 1 c Onions; chopped * 2 tb Green bell peppers; chopped * 2 tb Red bell peppers; chopped * 1/4 c Clery; chopped * 1 ts Salt * 1/2 ts Cayenne * 1 Bay leaf * 1/2 ts Dried thyme * 1 tb Garlic; minced * 3 c Tomatoes; peeled seeded and -chopped * 1 ts Tabasco Juice of 1 lemon * 2 tb Parsley; chopped *2c Steamed rice;hot MMMMM--GARNISH---- * 2 tb Green onions; chopped * 2 tb Brunoise red peppers * 2 tb Brunoise yellow peppers Instructions:in a large saute pan heat the olive oil. When the pan is smoking hot add the frog legs and brown slightly on both sides about 2-3 minutes. Remove the frog legs. Add the flour to the oil. Stir to 2-3 minutes to make a light brown roux. Add the onions peppers celery salt and cayenne. SAute the vegetables for 3-4 minutes or until wilted. Add the garlic and cook for 1 minute. Add the tomatoes and Tabasco. When the mixture comes to a boil reduce to simmer. Simmer for 25-30 minutes. Lay the frogs legs in the sauce and cook for 3-4 minutes basting with the sauce. Spoon the mixture over steamed rice. Garnish with green onions and peppers.:)


• United States
3 Aug 07
I meant Wicked with a d hits. I so-o-o miss spellchecker on mylots.