McDonald's Dollar Menu - Has anybody noticed any menu changes on it?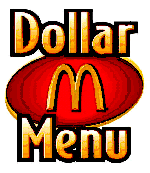 United States
August 1, 2007 12:00pm CST
I went through the drive thru last night and got a shock - McDonald's has taken the medium fries off of the dollar menu and put the SMALL size on there in place of it! The small size doesn't have enough fries in it to make it worth a dollar! Has anyone else noticed any changes where you are?
7 responses

• United States
1 Aug 07
I actually haven't noticed that at all. I might just take a look next time we happen to eat at MacD's.

• United States
1 Aug 07
Hmmm, I haven't heard anything about the local menu changing. Usually I hear this type of thing from college students on the campus at which I teach. That is a shame. At at time when the dollar is already so stretched. Personally, I haven't eaten at a McDonalds in over a year. I have been dieting and trying to eat healthier. The last time I ate at a McDonalds, I got the apple/walnut salad.

• United States
1 Aug 07
To tell youthe truth I don't frequent McDonals, but I did go thorugh the drive thorugh yesterday. I was super hungry and it was rainy here and I just wanted ANYTHIN hot. I did not take notice of the dollar menu, but thanks to my son, I did notice that the McFlurry is now $2. Which I think was on the dollar menu at one point. The best deal for your dollar menu (and your health) is still Wendy's, I don't think that will ever chage.

•
3 Aug 07
You know what honey I don't go to McDonalds a lot but we have the pound menu here - the same sort of things but it costs about twice as much! Not sure if it is the small or medium that comes on the pound menu as it has been a while! What else do you guys get on the dollar menu? xxx

• United States
3 Aug 07
Unless they've made more changes that I didn't notice, they still have double cheeseburgers, small sundaes, hot apple pies, and a few other things, I think. I never get drinks (always have bottles of water in the car) so I don't know what drinks are on there.

• United States
7 Aug 07
I am not really a McDonald's person. However, probably about a year or two ago they were making salads and putting them in a cup. The cup was narrow and long. How on earth was I supposed to eat a salad out of a cup. The salad was not even good. Now this situation with the change in fries, is so obvious. They probably think nobody even noticed. I could probably eat a small order of fries in two bites. McDonald's, wake up!