Is your child over weight?

Australia
August 1, 2007 10:28pm CST
It breaks my heart when i see over weight children. It's become an epidemic here in Australia, over 30% of our kids obese. Usually when you see an over weight child you see an over weight parent. It's child abuse, something should be done about it. I have promised myself that i will not buy a play station or nintendo for my daughter. She regularly does gym, swimming and dancing. She watches very little TV every day because she is playing and running around with her friends at pre-school. I let her eat junk food but never too much of it. If i buy her a packet of "twisties" she is only allowed to eat half of the packet and then she can eat the rest if she eats all of her vegetables at dinner time. I heard a story that an obese couple were not allowed to adopt a baby because of there weight. I agree with the decision, because if they were to adopt a baby they would bring that child up to live the same life style that they are living.
6 responses

• Australia
2 Aug 07
I would have to agree with you, and I blame the parents...Its not the children that go out and buy all this junk food for themselves..Parents should watch what they put down their kids throats, and the video games are a silent baby sitter, the kids are occupied and the parents dont have to watch them...Im glad that my child is active, healthy and very very rarely eats junk food..Its a treat not a weekly or daily routine..I cook nutrious meals and we are outside playing and getting exercise..

• Australia
2 Aug 07
Good on you :D It's sad that the western world has grown more and more lazy in the last 30 years.

• United States
2 Aug 07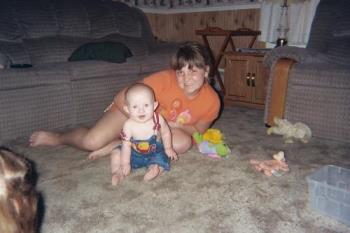 I think you are being a little too harsh and judgemental. Not all overweight children come from overweight parents with bad lifestyles and not all overweight parents have bad lifestyles that will influence their children. Saying it's "child abuse" to have an overweight child is cruel to all of us parents who are dealing with this. My 11 year old daughter is extremely active everyday AND goes to a gym several times a week. She doesn't eat junk food at all. She couldn't BE any healthier but she's only 4'9" and 121 pounds. While that isn't "officially" over weight it almost is according to growth charts and BMI. And by the way I'm 5'3" and weigh the same less than 9 months after giving birth to my 6th child. Here's a picture of her...Does she look "abused" to you?

• Australia
2 Aug 07
Sorry if it came across as harsh. Obviously i'm referring to the majority and not the minority. 98% of the obese children i see and meet have obese parents. What these parents are doing to their kids is child abuse. It is up to the parents to teach their children about healthy living and healthy eating. I have not yet met an over weight child that does not have at least one parent who is over weight. If your child is healthy and active then you have nothing worry about do you?

• United States
2 Aug 07
If we are talking about the same couple. They have another adopted child that is just fine, not over weight and they have had him, I believe around 5 years. I know that some people are over weight because of poor eating habits, but I am leaning more toward body make-up and your genes. It could be all the chemicals from the food we eat. Everything is processed in today food chain

• Australia
2 Aug 07
No it's not the same couple. The couple i'm talking about didn't have any children. I agree with you about the whole "make-up and genes" subject, there are people who put on weight easily or people who are just "big boned". It is possible for these people with "big" genes to be healthy. If they eat healthy and exercise then they can not possibly be over weight. And i'm not talking about the disease that some people get (i don't know what it's called) that makes them "obese". These obese kids are copying there role models.

• Australia
7 Aug 07
I dunno if it's actually abuse coz some people are just unlucky with bad genes but i do agree, you need to teach your kids to be active & healthy but you also need to be the same way & the best way of teaching kids is to show them by making an example of yourself! Last check i was 70kg i think & i'm 5' 6" - i have always been pretty average in weight but according to a website my sister went on, i'm over weight. I'm not sure if my daughter would be over weight, i haven't done any comparisons but when she had her 12 month shots done (about 2 months ago) she was approximately 9kg & the Dr said she was healthy so i dunno how accurate those height to weight charts are. She eats all he meals, she also has snack during the day which are usually wafer biscuits (she'll only have fruit every so often - sometimes she's just not interested) but she does nothing but run around all day so i'd consider her healthy & average weight!

• United States
2 Aug 07
My daughter was thin as a child, and thin as an adult. Treats were raw veggies. And, no tv or computers, except an hour a night.

• Philippines
2 Aug 07
My 2 year old son is more on the heavy side but not obese. He eats a lot but he plays a lot too. He has ADHD (Hyperactive Disorder) so he basically burns most of what he eats. He is always hungry because he sweats a lot from running and playing outdoors and I do not stop him from snacking because I know he needs it. I choose what I give him which are more of fruits and juices and a lot of fiber. I let my son play as long as he likes (like I can do something about it lol), its better that he grows physically active than see him sitting around most of the time.