I have a fun Idea...Wanna PLAY a GAME???

United States
August 2, 2007 2:08am CST
I was thinking how bored i was here..lol..and i went day dreaming..and then it occurrred to me..dont ask me why..but like who invented what..the odd things no on talks about.. Like,who invented the first real toilet paper what we use now..and i found out it was Scott Tissue..and then theers who was the first person to try marijuanna,who invented the first perfume,things like that..so ill do my home work and find out my other question..what is your favorite invention..it can be anything..,use your imagination..and then look em up and post something about them..how does that sound?
5 responses

• Canada
2 Aug 07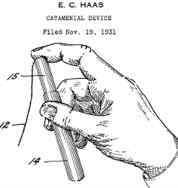 Thank God that industry evolved in it's used materials....oucchh... Here's what i found on tampons: The ancient Egyptians invented the first disposable tampons made from softened papyrus. The ancient Greeks invented tampons made from lint wrapped around a small piece of wood, recorded in writing by Hippocrates in the fifth century B.C. Other materials used for the first tampons have included: wool, paper, vegetable fibers, sponges, grass, and later cotton. In 1929, the modern tampon (with applicator) was first invented and patented by Doctor Earle Haas who wanted to invent a tampon that could be effectively mass produced. Earle Haas filed for his first tampon patent on November 19, 1931. His patent description was for a "catamenial device," derived from the Greek word for monthly. He later trademarked Tampax as the brandname for his tampon product.

• United States
3 Aug 07
omg! can you imagine? Yeeeeks!! no thank you! can u say splinters in your secret no no place? lol lol..Thank God for earl..but why didnt a woman think of it first i mean helloooo...ouchy!!! lol..well thank you so much for that great info..and il glad i now know who invented them..i always wondered..:)

• United States
2 Aug 07
LOL - I know this is strange but my favorite invention that I can think of is - disposable sanitary napkins. Here is what I found out about it. "Disposable menstrual pads appear to have been first commercially available from around 1895 through Curads and Hartmann's..... Kotex would appear to be the first of these early disposable menstrual pads to really take off...." source = http://en.wikipedia.org/wiki/Sanitary_napkins There is some really interesting things on there about this. Thanks for the interesting discussion!!! I was neat learning about these things :)

• United States
3 Aug 07
"Menstrual pad have been mentioned as early as the 10th century , in the Suda when Hypatia was said to have thrown her feminine rags at an admirer" So THAT's were they get on the RAg from!

• United States
3 Aug 07
hahahah ohh my dear friend Goddess..lol..that never entered my head..i was just thinkin plugs lol..I checked out that site and i found alot of things i didnt know there..thanks for the info..have a wonderul weekend hun!

• United States
3 Aug 07
crazy mom~~~ hahahahah! u made me laugh so hard that i blew my milk outta my noise! hahahah!!you are one funny funny woman!! lol..and seriously..the woman would threw her nasty used rag at the man she liked? or did i totaly read thaT wrong? but if so..EWWWWWWWWWWWIWWW1 nasty!!! but your right..thats where they got the name from..tJUST HAD TO!! thank you so much for cheering me up tonight..had alot on my mind lately..have a wonderful weekend hun.!!


• United States
2 Aug 07

"Toilet paper" as it were has been used since ancient times. However the modern day toilet paper:Modern Origin of Toilet Paper In our age, Joseph Gayetty invented toilet paper in 1857. His new toilet paper was composed of flat sheets. Before Gayetty's invention, people tore pages out of mail order catalogs - before catalogs were common, leaves were used. Unfortunately, Gayetty's invention failed. Walter Alcock (of Great Britain) later developed toilet paper on a roll ( instead of in flat sheets). Again, the invention failed. In 1867, Thomas, Edward and Clarence Scott (brothers from Philadelphia, Pennsylvania, USA) were successful at marketing toilet paper that consisted of a small roll of perforated paper . They sold their new toilet paper from a push cart - this was the beginning of the Scott Paper Company.

• United States
2 Aug 07
aww yes..thank you for all that great information..I never would have knopwn Scott was first if i didnt look it up..and u found more than i did lol..so thank you for your great work..and have a good one!

• New York, New York
3 Aug 07

Metal pans filled with charcoal were used for smoothing fabrics in China in the 1st century BC. From the 17th century, sadirons or sad irons (from an old word meaning solid) began to be used. They were thick slabs of cast iron, delta-shaped and with a handle, heated in a fire. These were also called flat irons. A later design consisted of an iron box which could be filled with hot coals, which had to be periodically aerated by attaching a bellows. This type, often called a charcoal iron, was on sale in the USA until at least 1902, and is used in some Asian and African countries today. In Kerala in India, burning coconut shells were used instead of charcoal, as they have a similar heating capacity. This method is still in use as a backup device since power outage is frequent. Other box irons had heated metal inserts instead of hot coals. I hate irons, ironing anything to do with irons. I started a discussion about this many months ago because this is how much I can't stand irons. I find the labels on shirts so confusing, I often think they write the instructions on purpose to confuse people... I had this shirt that the label said, "Iron with a cool iron" I ironed this shirt for 30 minutes and could not get any of the wrinkles out. I called my mom to complain and find out what I was doing wrong. She asked me how warm was the iron, I told her it wasn't warm at all because it said use a cool iron so I never plugged it in. It took a few minutes for my mom to get back on the phone because she was on the floor rolling in laughter. Why does it say use a cool iron - why doesn't it say use a warm iron or the lowest setting. To use a cool iron means you should not plug it in at all or else it's no longer a cool iron. I just do not understand what is a COOL IRON!



• Canada
4 Aug 07
Hi again, sorry I didn't have time to linger the last time, but wanted to make sure I add this to my discussions so I can get back to it later. It is a great thread. I have been wondering many things, for example, how does pudding thicken? Can anyone answer that for me? Thanks! :)