New Born Babies - needs care and respect?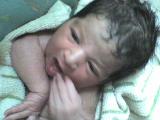 India
August 2, 2007 8:26am CST
Please go through my previous discussions and you would know that I just had my twin babies 1 months back and I am really really happy about this!But do you know according to our custom we should respect babies apart from the care you provide. This make them mentally strong and best enough to face the harsh facts of life. Pls discuss your views.:)
2 responses

• United States
3 Aug 07
I agree with you. All children, babies, people and animals should be respected. Congrats on your twin babies. You are doing the right thing with the respect. Also, lots of tender love, and they will be strong to face life. Good luck, and God bless y'all.

• United States
2 Aug 07
I absolutely agree that they should be respected, afterall they are people too. One can rule the roost while still giving respect to those in the roost.