In summer,how many times do you shower everday?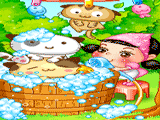 China
August 2, 2007 10:05am CST
Its extremely hot these days here in Shanghai.I am among those who are easily to drop sweat.Everytime I come back home I would take a bath at first,or I would feel uncomfortable.All in all,I would at least shower three times one day.Its in the morning,coming back from work and before sleep.How about you?
7 responses

• Switzerland
2 Aug 07
Well, depends on which country I'm in. Way back when I was in the Philippines, I shower two to three times a day, not only during summertime. Here in Liverpool, where this year's summer is a bit wetter than usual, I shower once and at most, two. I guess I'm just lucky because I don't sweat as much as most people do.


• China
2 Aug 07
Thanks for your response.It seems its spring time in Sweden,right?Have a good day!

• China
2 Aug 07
So I guess summer in Sweden is not that hot,right?


• United States
2 Aug 07
The humidity where I live is insane right now. Seriously, I am lucky some mornings that I'm not soaked with sweat by the time I get to work. To make it more bearable, I will show in the morning so I am nice and cool before I start my day. But on really hot nights though, I will also shower before bed to cool off.

• China
2 Aug 07
Yes,I love to have a bath before I go to work,it makes me refreshing.Thanks for your response.

• India
4 Aug 07
In summer we go for playing cricket once the sun starts fading.You can imagine summer in a sub tropical country like INdia.WOh!It's very hot here. Obviously we return home with kilos of sweat and we can't have food or snacks without bath!.SO we bath twice-once in the morning and again after play!.That's it..:)

• United States
2 Aug 07
Depending on how hot it is, at least a couple of times a day. I will shower before heading off to work in the morning, then again before I go to bed because I don't like the feeling of being sticky when I go to bed. If it's really hot during the day, I might take a nice, cool shower in the afternoon to try and get my body temperature down a bit.

• Philippines
2 Aug 07
I will took a bath 2 times a day or even trice if I go out and feel so dirty.