Friend's comments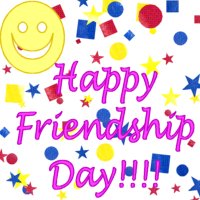 August 5, 2007 8:01am CST
I just got finished adding a comment to all of my friends in the spirit of Friendship Day, (oh yeah if you are a friend, you have a comment from me on your profile, LOL). Anyway, I noticed several things today and it sparked some questions. Did you know that if you remove your "My friends Comments" sortie, we can't leave a comment for you? If so, why did you remove it? If not, why did you remove it? :oD Some members leave HUGE ads in these comment areas, does that bother anyone else but me if someone does that to them? If so, why? If not, why? Do you leave comments for your friends on their profile? If not, why not? If so how often or what sparks you to do so? Thanks to all in advance and HAPPY FRIENDSHIP DAY!! :0D
9 responses

• Canada
6 Aug 07
Wow...shows how clued out I am...I didn't even know it was friendship day. Your comment and your bright message was appreciated. (I sent you a message to say so.) Thank you as well for this post and for helping me to get up to speed on this end of mylotting. I have never left a comment or colorful sortie...mostly because I don't have a clue how to do it. On the question of removing them...no I cannot think of any reason I'd want to remove them they are delightful to re-visit. That is even more so now that you have made me aware that once they are removed that friends can't leave another. I would be 'sparked' to do it when something someone said or did warrented it...or if someone was having a down day and needed a reasurring 'upper.' Also I appreciated the get well wishes when I was under the weather...and the congratulations as well. So I'd like to give that back to others whatever it feels appropriate. So thanks for this post...and for your extension of friendship. Sorry that I missed it...but let me say a belated HAPPY FRIENDSHIP DAY to you. In the short time I have been here you have certainly been a great on-line friend and I appreciate it.


• United States
6 Aug 07
Why thank you very much, Sunshinecup. I just saw this thread and went to my profile to make sure I was still on your Friends List and there it was...bright and happy and wonderful. I love it! But I have to admit that I didn't even know there was such a thing as friendship day. (I actually had a little tiff with my best friend yesterday on Friendship Day..Damn!) Anyway, in answer to your questions. I don't really do any of those things. Time is a big problem with me right now. When the slow period after Christmas comes round I'm going to spend lots more time learning to do things on Mylot. I'll make a real effort to post threads and maybe I'll even place some neat comments like you. I hope my friends understand and hang in there for me. Right now, about all I can do is scoot in and check out my friends threads every couple of days and post on some of them.

• United States
6 Aug 07
I have my comments section up but I don't really get to many comments in it. I don't really comment to people either. Manily because if there is something I want to say to them I'll call them or just send a message. I've never been one for random public notes.


• United States
5 Aug 07
Thank-you. What a pleasant surprise. Believe it or not, I don't usually think to add comments. I think they are fun, interesting and entertaining when I remember to even check my profile. Lately though I have tried to remember to leave a comment here and there. And I did not know that about removing the sortie. I'm trying to figure out how to add the blank sortie at the top. You have a great day yourself!

• United States
7 Aug 07
Thanks for the comment! I just found it! *Hangs head in embarrassment* I seldom go to my profile page so I don't find comments in that area in a very timely manner. I don't leave those comments (or answer them) for others because I don't know how! Also, now that a new school year is in session for me, I don't have very much 'mylot' time, so I'd rather 'give' to my friends by answering their discussions...which hopefully earns them extra $$...and for sure lets them see into my feelings/thoughts.

• United States
7 Aug 07
Oh, and happy, albeit belated, friendship day to you too! You are a great mylot friend...one of those who I wished lived closer...as I'm sure we would likely be great friends in 'real life!' My son is looking into a school in your 'neck of the woods'...he goes to college next year.

• United States
6 Aug 07
I do leave comments on occasion. Not often but every now and then to a few anyway. I do it just to say hello or sometimes on holidays I do too. But I do hate the add comments that I've noticed on other peoples profiles. They drive me crazy and I'm thankful no one on my friends list does that :)

• United States
6 Aug 07
And thanks so much for the comment :) Much appreciation!

• United States
7 Aug 07
HI sunshine. I do sometimes leave commments for my friends. It's a fun Mylot feature. I don't do it often though, but I should because it sure brightens my day when I get a comment from a friend! Thanks for the Friendship day comment- it's pretty!!!!